Saraveza's 4th Annual IIPA Festival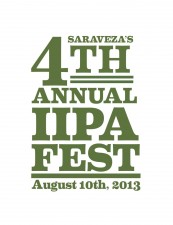 Portland, OR – Featuring over 30 rotating Imperial IPA's, Double Bacon BLT's & Live Music, Saraveza's 4th Annual IIPA Festival will take place at Saraveza, Bottle Shop & Pasty Tavern and neighboring Bad Habit Room on Saturday, August 10th. There will be several IIPA's brewed especially for the festival and a few surprises from both near and far.
Taps will be rotating at both Saraveza and the Bad Habit Room and in the outdoor seating area on N. Michigan. Advanced ticket purchase is encouraged. The taplist will include classics like Russian River's "Pliny the Elder", Hopworks "Ace of Spades", Firestone Walker "Double Jack" & 21st Amendment "Hop Crisis".
Entrance fee to the festival is $20 which includes a commemorative IIPA Festival glass and 10 drink tickets good for a 4oz sample of beer (some beers are more expensive and cost 2 tickets per sample). You are encouraged to purchase tickets here before they sell out.
IIPA Fest, Saturday, August 10th from: 11am-11pm at Saraveza & The Bad Habit Room
Cost: $20 for commemorative glass and 10 drink tickets, Advance Tickets Here!
VIP/Sneak Preview Event, Friday August 9th from: 6pm to 9pm in the Bad Habit Room
Cost: $35 for commemorative glass & 10 drink tickets, plus delicious snacks & the soulful sounds of DJ BP Murphy, Advance Tickets Here!
Here are some of the participating breweries:
Alameda Brewing
Amnesia Brewing
Ballast Point
Barley Brown's Brewpub
Block 15 Brewing
Breakside Brewery
Cascade Brewing
de Garde Brewing
Dogfish Head
Double Mountain Brewery
Elysian Brewery
Firestone Walker Brewing
Fort George Brewery
Gigantic Brewing
Hale's Brewery
Hopworks Urban Brewery
Laurelwood Brewery
Lompoc Brewing
No-Li Brewhouse
Old Town Brewing
Oskar Blues
Russian River Brewing
Solera Brewery
Southern Tier Brewing
Stone Brewing
10 Barrel Brewing
Three Creeks Brewing
21st Amendment Brewery
About Saraveza:
Derived from the owner's name and the Spanish word for beer, Saraveza Bottle Shop & Pasty Tavern is a place to celebrate craft beer, eat well and enjoy friends and strangers alike. We're a North Portland watering hole and craft beer convenience store w/ 250+ bottles and 9 rotating taps. Saraveza's Beer Curator, Erika Huston, spends her days talking to brewers, distributors and industry folk to source the freshest, rarest and yummiest beers for Saraveza's draft and bottle coolers.
www.saraveza.com – @Saraveza – facebook