San Francisco Beer Week 2011 Update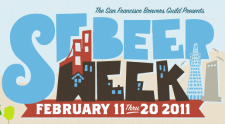 Rock 'n' Roll, baby! It's On! – Happy Brew Year, everyone! SF Beer Week 2011 is coming up, and we're gearing up for the big website launch. www.sfbeerweek.org is already teasing you with this year's spiffy new artwork.
Stay tuned, because the website will feature apps, maps, and places to take naps (read: iPhone and Android apps, personalized location mapping, and hotel deals)!
And most importantly:
On January 11 the new events calendar will be released!
Events are pouring in right now, and the calendar's gonna be filled with great stuff, from festivals to opportunities to meet the brewers of your favorite beers to collaborative beer releases to beer dinners to open brew days to, well, you name it! There's even gonna be a beer-themed naming contest for the SF Zoo's new baby panda! (Well, maybe not, but if the Zoo ever has a panda cub, we'll at least raise a glass.)
SF Beer Week kicks off in style at the SF Brewers Guild Opening Gala, held at Yerba Buena Center for the Arts on Friday, February 11th. Over 35 breweries will be there, pouring their rarest and wildest beers. The SF Brewers Guild will be tapping the first barrel of its collaboration brew, an Imperial Common aged for three months in whiskey barrels from St. George Spirits in Alameda. In addition to the great beer, great music, and great food at the Gala, there will be a VIP session beforehand with a panel of some of California's best brewers (think if the Super Friends HQ had a brewery). Be sure to be there for a lively discussion and toast from Matt Brynildson (Firestone-Walker), Brian Hunt (Moonlight), Vinnie Cilurzo (Russian River), Pete Slosberg (Pete's Wicked Ale), Terence Sullivan (Sierra Nevada), Mark Carpenter (Anchor Brewing Co. and Distilling), and Shaun O'Sullivan (21st Amendment)!
Don't miss out. Be sure to get your tickets to the Gala at: http://www.eventbrite.com/event/1112701119
Other peeks at the SFBW'11 calendar reveal:
Meat The Brewers South Bay Beer and Barbecue Festival at Tied House Brewing Co.
The Celebrator 23rd Anniversary Party at Trumer Brauerei in Berkeley on Febraury 20th
Vegan Beer Dinners at Millennium and Good Karma
A Blondes Festival at Elixir, celebrating golden ales
Beer Dinners at Starbelly, Beretta, and Anchor & Hope
Rare beer and food pairings all week at Delarosa
A collaboration brew between Local Brewing Co. and ThirstyBear Brewing Co.
An Open Brew Day at Social Kitchen & Brewery
Homebrewing Demonstrations at 7 Bridges Brewing Co.
And guess who's made a New Year's resolution to sponsor SF Beer Week? If you guessed the San Francisco Brewers Guild, 21st Amendment Brewery, Beach Chalet Brewery & Restaurant, Drake's Brewing Co., Gordon Biersch Brewery Restaurant San Francisco, Magnolia Gastropub & Brewery, Social Kitchen & Brewery, Speakeasy Ales & Lagers, ThirstyBear Brewing Co., Rosamunde Sausage Grill, Monk's Kettle, and The Page, then you're right! And, without further ado:
THEREFORE BE IT RESOLVED that SF Beer Week 2011 is gonna be totally awesome.
No objections,
Rich Higgins
SF Beer Week Court Reporter
www.sfbeerweek.org
Twitter: @sfbeerweek ~ facebook: san francisco beer week