Saint Arnold To Conduct Weddings at GABF for Second Year Straight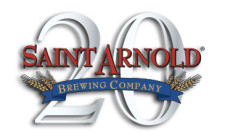 (DENVER, CO) – Hundreds of couples are expected to walk down the aisle at the Great American Beer Festival (GABF) this week – to exchange vows at the Saint Arnold Brewing Co. chapel on the exhibition floor. For the second year, Saint Arnold Brewing Co., the oldest craft brewery in Texas, has constructed a chapel and will offer an ordained minister dressed as St. Arnold to conduct weddings, civil unions and vow renewals.
Last year's celebration at the premier U.S. beer festival featured an estimated 200 ceremonies per session – approximately 800 overall – as couples celebrated their love and mutual commitment to each other and to beer. This year Saint Arnold Brewing Company will give each celebrating couple a set of bottle opener rings for wedding bands.
"We were happily surprised last year by that our weddings became a memorable part of the GABF experience for so many craft beer lovers from across the country," Saint Arnold Director of Marketing and Events, Lennie Ambrose. "With a selection of 2,800 craft beers available at our GABF weddings, this is the perfect marriage between vows and craft beer."
The ordained minister playing the role of St. Arnold of Metz, the patron saint of brewers, will do the honors between 5:30 p.m. and 10 p.m. on Thursday through Saturday in booth M17. Ambrose said the Saint Arnold team will be ready to help supply the toasts, whether it be, 'May your heart always be full and your glass never empty,' or "I like my friends, I love my wife, food is good, and beer is Life!"
"We expect this fun event will be even more popular than last year, as couples share their love and passion for each other and for craft beer with thousands of other enthusiasts," Ambrose said.
For more information about getting married by Saint Arnold at GABF, visit http://www.saintarnold.com/gabfwedding/.
Saint Arnold also will be pouring many of its special and sought-after beers at the event, including:
  • Bourbon Barrel Pumpkinator
  • Saint Arnold Bishop's Barrel No. 2 Brett
  • Saint Arnold Bishop's Barrel No. 4
  • Saint Arnold Boiler Room Berliner Weisse
  • Saint Arnold Endeavour
  • Saint Arnold Fancy Lawnmower
  • Saint Arnold Oktoberfest
  • Saint Arnold Pumpkinator
  • Saint Arnold Weedwacker
  • Santo
On Twitter, follow @saintarnold
On Facebook, like www.facebook.com/saintarnold
About Saint Arnold Brewing Company
Saint Arnold Brewing's 17 brews are made and sold by the company's staff of 69 dedicated employees. Ranked 48th on the Brewers Association list of top craft breweries, Saint Arnold was listed by USA Today as one of the "10 great places to see what's brewing in beer," and Smart Meetings magazine named it among the "Top 5 breweries to host an event." Saint Arnold is located at 2000 Lyons Avenue and its brewery tour and tasting is offered every weekday at 3:00 P.M. and Saturdays starting at 11 A.M. For more information on Saint Arnold's seven year-round and five seasonal beers as well as root beer, log on to www.saintarnold.com.