Russian River Dinner at Beachwood BBQ – June 15, 2011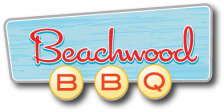 Beachwood BBQ is delighted to be hosting a beer dinner featuring Russian River Brewing Company. As many of you know, for special dinners we like to change things up from the BBQ that you are familiar with.
In fact, the beer dinners we hold harken back to Gabe's fine dining roots–many courses will incorporate molecular gastronomy techniques and exotic ingredients. Vinnie and Natalie Cilurzo will be on hand to guide you through the beers.
Now to get down to business
The dinner will be held on Wednesday June 15th, 2011.
There will be one seating, 7:00pm SHARP.
The cost of this six course dinner including beer is $100/person. (plus tax and gratuity)
Before and after the dinner, the bar will be available for you to enjoy pre and post dinner brews.
This is a reservation only dinner, limited to 40 people. No parties larger than 2. Parties of 2 will be seated with other parties of 2. The option to split meals is not available. The regular menu will not be available.
Credit card numbers will be taken to secure reservations.
Reservations must be cancelled 48 hours before the event or you will be charged the full amount of the dinner.
Reservations are on a first come, first served basis. In order to make your reservation you must send an email to [email protected] In the email you must include, name, phone number and number of people in your party and preferred time. You will be notified by email if your reservation has been made. We will contact you directly for a credit card confirmation.
The Menu…
The menu is as follows, please note no modifiers or substitutions and there will be no vegetarian option available. Food allergies need to be discussed with Gabe ahead of time to ensure you can participate.
Course 1
"Soup and Salad"
Paired with Sanctification
Course 2
Egg?
Paired with Erudition
Course 3
Lobster, "Gueese", Apple and Peas
Paired with Beatification
Course 4
Ostrich, Beets, Oaked Panna Cotta
Paired with Consecration
Course 5
Boar, Spruce, Pistachios and Berries
Paired with Supplication
Course 6
Olive Oil Cake, Vanilla Sponge, and Candied Asparagus
Paired with Damnation Batch 23