Reminder: Karl Strauss CityWalk Of Beer Grand Re-Opening Tonight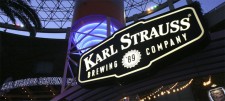 Last night we got to preview the new menu and beer offerings from Karl Strauss at Universal City Walk. They unveiled some tasty new dishes that compliment their beers fantastically, Karl Strauss is the obvious choice for a cold one if you find yourself at Universal City Walk.
For their grand re-opening tonight you are all invited to sample their beer and food pairings for just $10
Your ticket gets you into this private event along with Beer and Food Pairings, a Karl Strauss logo pint glass, live brewing, and tours.