Pugachev's Cobra Unleashed at Bourbon on 1st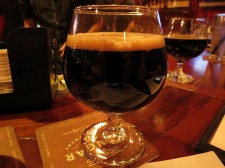 There's no better way to get over the mid-week blues than to step right on into your neighborhood bar. Fortunately, Little Tokyo's Far Bar is always prepared for an evening of craft beers and bold bites.
As part of their Bourbon on 1st series this month, Far Bar hosted Hangar 24 Brewery from Redlands, CA, who brought along their fantastic Pugachev's Cobra along with an arsenal of five other Hangar brews. We were fortunate to drop in and catch one of the last remaining patio tables earlier on in the evening as craft beer fans and downtown dwellers enjoyed the exceptionally warm night as though it were the peak of summer.
Jimmy Smith, head of Far Bar's beer program, mentioned to us that he had been looking forward to having Cobra at Far Bar and the he specifically wanted to match it up with Bourbon on 1st.  Live music and Far Bar's unique atmosphere set a great backdrop to this month-long event celebrating high-caliber bourbon and barrel-aged beers.
Surprisingly, Pugachev's Cobra standing at a whopping 16.5% ABV was a pleasant sipper that was well-rounded and full of delicate nuance. Released in late 2011, this beer may sound like a vicious concoction on paper, but the folks at Hangar 24 were able to find a beautiful balance that made vanilla, espresso, and toasted malts shine. The presence of wood is definitely there, but the bourbon barrels this beer was aged eight months in did not give this high alcohol Russian Imperial Stout any sort of abrasive characteristics. Instead, Cobra is a very drinkable stout–almost dangerously so. I had a chance to sit and chat with lead brewer Joe Savage about the work that went behind Cobra as well as what is coming up next for Hangar 24's barrel program, and there is definitely a lot to look forward to from experiments with a barley wine and a barrel-aged sour on the horizon.
For more information on upcoming Bourbon on 1st events at Far Bar, check them out on Facebook.