Portland Fruit Beer Festival June 9-10, 2012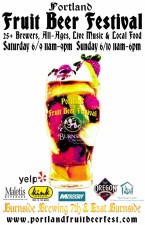 Portland Fruit Beer Festival
Friday June 8th Pre-Fest Homebrewers Dinner
Saturday June 9th Festival from 11am-9pm
Sunday June 10th Festival from 11am-6pm
7th and East Burnside outside of Burnside Brewing Co.
Portland, OR
The Portland Fruit Beer Festival returns bigger and better than before this June 9 and 10, along with a special pre-fest dinner and seminar on June 8. The only festival of its kind, the PFBF celebrates the wonderful, creative, and uniquely crafted fruit beers of the Pacific NW and beyond. Returning for its 2nd year, the Portland Fruit Beer Festival aims to be the most innovative and fun festival around, with not only the most exotic selection of  fruit beers on tap, but also by adding gluten-free fruit beers and locally-made hard ciders. In the wake of last year's overwhelmingly high attendance, organizers this year have secured the closure of NE 7th Street off of East Burnside to more than double the capacity of Burnside Brewing Co.'s parking lot while still keeping the event friendly for all ages. With extra space comes more beer, more food vendors, more seating, and live music on the Kink.fm stage. The 2nd annual Portland Fruit Beer Festival will truly have something for everyone.
Once fruit beers were a staple of every brewery, but when quality fruit became harder and harder to obtain at cheap prices, many breweries stopped making them or turned to cheap extract flavorings, which in turn helped to give fruit beers a bad name in the craft beer community. The Portland Fruit Beer Festival is bringing back the tradition with an outstanding lineup of the best fruit beers the world has to offer, many of them brewed specifically for this festival by local brewers. More than 30 breweries are sending entries to this year's festival, with another 20-30 special rare one-off kegs for our rotating taps that will change throughout the festival. Some of the more unique beers (and ciders) you can expect to find at this year's festival include:
 A chocolate- and orange-flavored beer modeled after everyone's favorite holiday treat (no need to crack this variety of chocolate orange open on the counter)
A Saison modeled after Vietnamese-style cooking and made with fresh mangos, Thai basil, lemongrass, and lime juice
Another beer from an innovative young Portland brewer that uses whole fresh baked strawberry-rhubarb pies added in every part of the brewing process from the mash tun to the boil kettle and fermenter
One of the country's fastest growing brewers has created its first-ever bourbon barrel-aged beer aged with cherries just for this year's festival. It should be a sublime rare treat from this fan-favorite Eugene brewer
The Brookland Cider – a cherry cider with Oregon apples, dry oak-aged, fermented with London ESB yeast, and infected with lactobacillus culture to try and get as much sour flavor as possible, made just for the fest.
Homebrewing Competition and Pre-Fest Homebrewers Dinner & Symposium
Innovative beers will come from not just the professionals, but the homebrewers as well. Just like last year, there will be a fruit beer homebrewing contest, but also a Pre-Fest Homebrewers Fruit Beer Dinner on Friday, June 8, in Burnside Brewing Co.'s south brewery space. Catered by Chef Nate Yovu with a menu designed to compliment fruit beers, 4 of the best homebrewed fruit beer entries will be selected to be poured at no charge for the dinner, alongside a few special regular festival entries. This will give the public a chance to taste some of the amazing beers our local homebrewing community has been concocting. This all-inclusive dinner ($50) will feature talks from some of the industry's foremost brewers of fruit beers,  including Eric Salazar from New Belgium Brewing, Alex Ganum of Upright Brewing, and Ben Edmunds of Breakside Brewery. Representatives of Oregon Fruit Products, which produces the finest antiseptic fruit purees for brewing, will also be on hand. Tickets for this dinner are limited to just 50 seats and are available online here. Find more info about how to enter the homebrewing contest here.
Vendors
The Portland Fruit Beer Festival is also welcoming back some of the finest mobile food providers that Portland has to offer, while adding some new favorites including: Tastebud Farms, 50 Licks ice cream, and PBJ's Grilled, to name a few. There should be something for every taste, whether adult, children, vegetarian, or vegan.
New Website & Blog
We are also excited to announce the launch of a new website www.portlandfruitbeerfest.com that features a blog where brewers will be writing their thoughts on fruit beers and the process behind the making of their festival entries. A handful of behind-the-scenes making of videos are also being produced that will debut on the blog.
Participating Breweries (so far):
Alameda Brewing
Bend Brewing
Breakside Brewery
Block 15 Brewing
Boneyard Brewing
Burnside Brewing
Bushwhacker Cidery
The Commons Brewery
Deschutes Brewery
Double Mountain Brewery & Taproom
Dogfish Head Brewing
Elysian Brewing
Falling Sky Brewing
Flat Tail Brewing
Fort George Brewing
Hopworks Urban Brewing
Laurelwood Brewing
Logsdon Farmhouse Ales
Lompoc Brewing
Lucky Lab Brewing
Naked City Brewing & Taphouse
New Belgium Brewing
Ninkasi Brewing
Oakshire Brewing
Schooner Exact Brewing
Short Snout Brewing
Stone Brewing
Solera Brewery
10 Barrel Brewing
Upright Brewing
Widmer Brothers Brewing
Official PFBF Beer List info coming in May!
Pre-Purchase Advanced Tickets (skip the lines!)
VIP Access 1 hour before the crowds or seats to the Pre-Fest Homebrewers Dinner & Symposium at: http://portlandfruitbeerfest.strangertickets.com/
Portland Fruit Beer Festival would like to thank their sponsors:  KINK.fm, Portland Mercury, Maletis Distribution, Oregon Fruit Products, Yelp, Burnside Brewing Co. and The Dougy Center