Portland Beer Week 2012 – Interurban Guest Brewer Dinner Info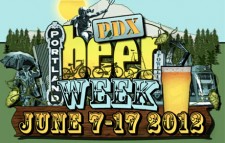 Interurban Hosts Three Intimate Brewer Dinners in Upstairs Annex during Portland Beer Week(May 29, 2012) Portland, OR – Portland Beer Week (June 7-17) is around the corner, and to celebrate, owners chef John Gorham and tap-master Dan Hart of North Portland's Interurban have been brewing up a star-studded series of three "Guest Brewer Dinners"for the gastropub, featuring several-course pairing menus with exclusive beers.Premiering during PDX Beer Week, Interurban welcomes:

•    June 10 – Charlie Devereux of Double Mountain in Hood River, OR

•    June 12 – Mitch Steele of Stone Brewing in San Diego, CA

•    June 13 – Dick Cantrell of Elysian Brewery in Seattle, WA

Co-owners Hart and Gorham have been coordinating with each visiting brewer to produce a menu with beer pairings that demonstrates the evolution of gastropub fare and craft beer in today's culinary landscape.

"Today, people truly appreciate how pub fare and beers were made for each other.  We're highlighting that in these dinners with the help of some of our favorite brewers in the country. We're honored to welcome them to Interurban," says Dan Hart, co-owner of Interurban and also of Prost!

Interurban – known for its fine tuned pub fare, such as smoky rotisserie pork and a hand-dipped corn dog, alongside a classic craft cocktail and indie beer list – is Mississippi Avenue's latest neighborhood hot spot.

Taking place in Interurban's intimate upstairs annex space, all three dinners will feature a different guest brewer and special coursed menu prepared by John Gorham and his team of chefs, including Patchen Gallagher and Drew Sprouse. Diners will have the rare opportunity to rub elbows with the brewer and experience thoughtful food and beer pairings, some beers being special releases just for PDX Beer Week.

Menus with beer pairings below:

Double Mountain 

Sunday, June 10th 6PM 

1

Cheese & Yeast Crackers with Fruit Chutney

Cask IRA

2

Liver Mousse with Malt Drizzled Crostini & Pickled White Strawberry

Vaporizer

3

Belgian Endive/Arugula and Rotisserie Sardine/Anchovy Salad with Chiffonade Hops & Flat Bread

Kolsch

4

Spiced Mussels in Butter and Beer Broth with Tarragon & Charred Garlic Crostini

Bonne Idée (Oregon Farmhouse Ale '10)

5

Brined Rotisserie Pork Loin with Chorizo Potato Salad

Das Boot

6

Strawberry Cobbler with Peach Leaf Ice Cream

Peche Mode (Belgian-style Sour Ale with peaches)

Stone Brewing

Tuesday, June 12th 6:30 PM

1

House Made "Slim Jim" with Sharp Cheddar

Stone Smoked Porter with Chipotle Peppers

2

Butter Lettuce Salad with Tesa & Avocados

Stone Cali-Belgique IPA

3

Barley Soup with House Made Buttermilk Cheese

Stone Sublimely Self-Righteous Ale

4

Roast Piglets with Creamed Chilies

Stone 11.11.11 Vertical Epic Ale

5

Chocolate Almond Affogato

Stone Imperial Russian Stout 2012

Elysian Brewing

Wednesday, June 13th 6PM 

1

Salmon Tartar Canapes

Avatar Jasmine IPA

2

Gnocchi "Nachos"

Loser Pale Ale

3

Orange Granite

Peste Chocolate Chili Ale

4

Fish-N-Chips

Bete Blanche Belgian Tripel

5

Beet & Arugula Salad with Hazelnut & Bleu Cheese Vinaigrette

Prometheus IPA

6

Rotisserie Beef with Fondant Potatoes, Wilted Greens and Au Gascon Sauce

The Wise ESB

7

Truffles

Split Shot Espresso Milk Stout

Interurban PDX Beer Week  guest brewer dinners begin at 6 and 6:30 p.m., and cost $75, gratuity not included. Reservations must be made up to 24-hours in advance by calling Interurban at: 503-284-6669. Interurban is located at 4057 N Mississippi Ave. Portland, OR 97227. For more information about Interurban, please visit the website www.interurbanpdx.com.