Pizza Port Real Ale Festival News and More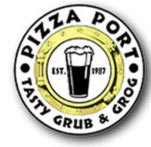 From Tom Nickel, from O'Briens Pub San Diego, and co-promotor of Pizza Port Real Ale Festival
Hello Thirsty Beer Fans!
June is a busy month for beer events and beer festivals. The San Diego Real Ale Festival is coming up June 12th and 13th at Pizza Port Carlsbad. VIP tickets are available now at www.pizzaport.com for $40. The VIP session will be from 1-4 pm on Friday and there will be 8-10 VIP beers including a cask of Port Brewing's Older Viscosity.
There are less than 70 VIP tickets still left, so if you want to go, purchase them before the end of the weekend. And at the end of the month we have the San Diego International Beer Festival at the San Diego County Fair. The two day fest, June 26th and 27th will feature more than 300 different beers making it the largest collection of beer west of the Great American Beer Festival! Check out www.sdfair.com/beer for more info.
Back on the pub front, there is also plenty going on. This Wednesday, June 3rd we have the USA v. Costa Rica soccer match at 7 pm. Lindsey will be serving up lots of special food with her beer cheese including Beer Cheese Plates, the Italian Beer Cheese Melt and the awesome Bacon Guinness Burger. And we have plenty of great new beers on tap to try – Ballast Point Sour Wench Blackberry Ale (great blended 50/50 with stout or porter – tastes like a liquid black forest cake), Full Sail Imperial Porter, Alvinne Melchior (a mustard seed Belgian ale) and Hoptown Brewing is back on tap with its Golden Ale. Back on the bottle list is Rodenbach and Rodenbach Grand Cru. They just came back into the market and we got the very first bottles in Southern California last Friday. They both taste as good as ever.
Thursday the 4th we have not one, but two fantastic cask beers from Alpine – Bad Boy Double IPA and Nelson Rye IPA, both on tap at 5 pm. We have been lucky enough to get a ton of the draft Bad Boy and it is incredible. I really can not wait to taste the cask version. Friday the 5th we will feature two great hoppy beers from Deschutes on tap – HopHenge and Red Chair IPA. Over the weekend, we have another USA soccer match at 5 pm Saturday versus Honduras. And as always, we will have 10% off all bottles including single import bottles to-go and our great beer battered fish and chips and fish tacos on Sunday and Monday.
Next week we will get ready for the Real Ale Festival with a triple cask pre-party of doom. No one really needs a pre-party for a two day beer festival. And definitely the last thing anyone needs is a pre party for a two day beer festival that features three different casks all over 10% alcohol. Well, that is what we have. I didn't really intend for it to be this way, it just kind of happened. We will have AleSmith Decadence 2008, Alpine Exponential Hoppiness and Port Brewing 3rd Anniversary all on cask at 5 pm on Thursday the 11th. So if you can't make the fest, you can at least drink lots of great cask beer at the pub. And if you are going to the fest, you can just keep the buzz going one more day. We should also have the new Sierra Nevada collaboration The Empire Strikes Black Imperial Stout on tap for the evening just in case 3 strong cask beers isn't enough.
For the festival weekend, we will feature Sierra Nevada Specialty Beers on the 12th to 15th. In addition to the aforementioned Empire Strikes Black, we will also have Bigfoot, Brown Saison and ESB on tap along with our house specialty Big P – 1/2 Pale Ale, 1/2 Bigfoot. All of the beers will be on tap Friday through Sunday at least so you can stop by anytime and enjoy them.
Looking further ahead we will have a cask of Ballast Point Sculpin at 5 pm on Thursday the 18th. As we always do each year, we will close down on Sunday, June 21st for Father's Day. It gives us, our family, our employees and their families a chance to spend the day with each other. This is a small, family owned business and though it may not seem an important holiday to some, it is important to us to allow our employees to spend it with their loved ones. You can drink to your heart's content on Saturday the 20th from 11:30 am to Midnight, or be there as we open at 11 am on Monday to avoid mixing your hop fix. You could also take the opportunity to try one of the other great beer stops in town – go up to Pizza Port or Churchill's, try Downtown Johnny Brown's downtown, go down the hill to San Diego Brewing Company or try the new Blind Lady Ale House or Toronado near by, maybe even pop in somewhere for a brewery tour and tasting – visit the Brewers Guild website for a list of ideas at www.sandiegobrewersguild.org.
Next month we have a very special beer and cheese pairing set up with the Malheur beers of De Landsheer Brouwerij in Belgium. We are teaming up with George and Mary Palmer from Taste Artisan Cheese Shop to bring you this special one night only event at O'Brien's on Sunday, July 19th at 6:30 pm. We will feature Malheur 6, 10, 12, Brut and Dark Brut paired with 7-8 different cheeses. Each beer will be presented in its own flight. Cost is $40 and you can sign up at the pub (cash only please). I expect that this event will sell out early, so if you want to go, reserve your seat sooner rather than later.
Looking much further ahead, it seems as though San Diego Beer Week is finally coming together. The inaugral event will be Friday, November 6th through Sunday, November 15th. Expect 10 days of great beer events, tastings, casks, beer dinners, mmet the brewer events and of course, the San Diego Brewers Guild Festival – one of the best in the county. As details become available, you can of course find them here.
That is your good beer news update for now. We'll see you soon for a great beer. Cheers, Tom
Tom Nickel
O'Brien's Pub
20 Taps – Tons of Hops
4646 Convoy Street
www.obrienspub.net