Pittsburgh Craft Beer Week in the Final Days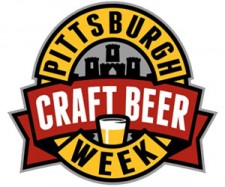 We are approaching the final days of Pittsburgh Craft Beer Week and yet there are still more amazing events to attend!  All of the events cater to a variety of craft beer enthusiasts, so don't miss out!  Don't forget to check out the events page of the PCBW website here.
Tonight, April 25th, there will be 3 years of  Great Lakes Blackout Stout and Dogfish Head World Wide Stout from vintages from 08′ to 12′ are the center piece of this Dark Beer tap takeover at Double Wide Grill in the South Side.  There will be over 15 different dark choices to choose from, all of which will be on tap. The Double Wide will also be doing raffling of some four packs of Founders KBS throughout the night with proceeds going to a local charity. Learn more here.
If you would rather stay north of the city this evening, get over to Mad Mex Cranberry Twp. for a great event featuring Blue Point Brewery. Be on hand for this event and enjoy several offerings from Blue Point Brewing including White IPA, RasafaRye Ale, Toxic Sludge Black IPA, limited release No Apologies Double IPA, and a PIN of Hoptical Illusion IPA hopped with Mosaic hops. Learn more here.
Tomorrow, April 26th beginning at 4:30PM, get yourself over to The Porch at Schenley to enjoy some brews from Lavery Brewing. Learn more here. If firkins are your thing, then get to Fat Heads tomorrow before 5PM for their surprise Dogfish Head firkin event. Learn more here.
Are you on Untappd? If so, there is still time to get your Pittsburgh Craft Beer Week Badge.  You can check in to two locations through the app and receive your unique beer week badge! Learn more here.
That's just a sampling of the events happening on the these next few days of PCBW. For a complete listing, check out the events page here.
Remember to keep an eye on our social media accounts on Twitter: https://twitter.com/pgh_beerweek and Facebook:  https://www.facebook.com/pghcraftbeerweek.
Happy and Safe Drinking!