Pink Boots Society is Taking Over Three Weavers Brewing
(Inglewood, CA) – On Monday, June 20, Three Weavers Brewing is handing over our tasting room license to the Pink Boots Society for a night of killer beers, great food, good cheer, and fundraising for a worthy cause. 100% of the proceeds from this night go directly to the Pink Boots Society Scholarship Fund.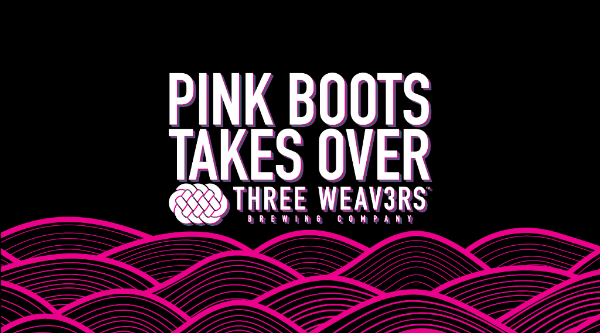 – $30 gets you 6 pours and a Three Weavers glass for keeps. Additional pours available at $4 each in advance or at the event.
**TICKETS ARE REQUIRED FOR ENTRANCE. BUY YOUR TICKETS NOW**
– 21 and over, only please.
A bunch of killer breweries are joining us with their equally killer beers for the occasion, stay tuned for details!
The Pink Boots Society was created to empower women beer professionals to advance their careers in the Beer Industry through Education.
Organizational Goals:
Support PBS members to advance their beer careers through education.
Teach women beer professionals the judging skills necessary to become beer judges at the GABF and other competitions.
Who Are the Pink Boots Society®?
We are the female movers and shakers in the beer industry. We get the beer brewed and fermented with the highest possible quality. We also own breweries, package the beer, design beers, serve beers, write about beer, and cover just about any aspect of beer, and we are all women. Most importantly, we teach each other what we know through our own seminar programs, and we help each other advance our beer careers by raising money for educational scholarships.
P—Passion
I—Integrity & Inspiration
N—Networking
K—Knowledge
B—Beer & Brewing
O—Opportunity
O—Open Exchange of Ideas
T—Teach
S—Success
pinkbootssociety.org – @pinkbootsbeer – facebook