Philly Beer Week – Kick Off With "Opening Tap" On June 4th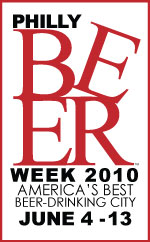 Philadelphia, PA – The third-annual Philly Beer Week (PBW) 2010 will kickoff on Friday, June 4 at 7:30 p.m., in the spectacular Independence Visitors Center (6th and Market Streets) with the Opening Tap, a celebration honoring over 25 regional breweries whose beer helps make Philadelphia "the best beer-drinking city in America."
The Opening Tap will begin with Mayor Nutter and the ceremonial 'first tap' using the official Philly Beer Week keg mallet (affectionately known as the Hammer of Glory) followed by a strolling beer tasting on two levels.  Opening Tap tickets cost $40 and can be purchased online at www.phillybeerweek.org, no tickets will be available for purchase at the door.
"The Opening Tap is a one-of-a-kind event featuring our local breweries and their beers, as well as the men and women who create them," says Don Russell, Executive Director of PBW.  "It's only fitting that we kick off a celebration of America's best beer-drinking city in the shadow of the birthplace of America."
Invited breweries for the Opening Tap include:  Appalachian Brewing Company, The Brew Works of Allentown and Bethlehem, Dock Street Brewing Co., Dogfish Head, Earth Bread + Brewery, Erie Brewing Company, Flying Fish Brewing Company, General Lafayette Inn, Iron Hill Brewery & Restaurant, Lancaster Brewing Company, The Lion Brewery, Manayunk Brewpub, McKenzie's Brew House, Nodding Head, Philadelphia Brewing Company, River Horse Brewing Company, Rock Bottom, Roy Pitz Brewing Company, Sly Fox Brewery, Sam Adams, Stewart's, Stoudt's Brewing Company, Triumph, Troegs Brewing Co, Twin Lakes Brewing Company, Victory Brewing Company, Weyerbacher Brewing Company, Yards Brewing Company and Yuengling.
Beer friendly food will be available for purchase on site from Max & Me Catering and there will be live music by the Flathead Gang.  Attendees must be at least 21 years of age, and no children will be admitted.
To purchase tickets for the Opening Tap or find general information including the ever-expanding schedule of events and list of participants, please visit www.phillybeerweek.org.