Philly Beer Week – Dates Announced for 2011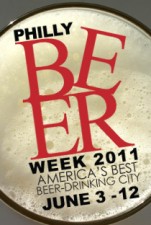 PHILADELPHIA, PA – With 195 participants and more than 1,000 successful events, the third-annual Philly Beer Week (PBW), which took place this past June, has cemented its reputation as the nation's foremost celebration of beer and brewing culture.
From the ceremonial tapping of the first beer (a collaborative brew aptly named "Brotherly Suds," made especially for PBW2010) at the Opening Tap festival by Mayor Michael Nutter to the arrival of more than 80 brewers from 18 states and as far away as Belgium, Germany, England, Norway and Canada, the 10-day event proved once more that Philadelphia is "America's best beer-drinking city," as it was christened by PBW Executive Director Don Russell.
"Since PBW was founded, more than 25 other U.S. cities have put on beer festivals of their own, but ours remains the biggest and the best," says Russell, a.k.a. popular beer columnist Joe Sixpack.  "And we're thrilled to announce the dates for PBW 2011: Friday, June 3 through Sunday, June 12, 2011."
Next year's festival will surely see the return of such popular events as the Hammer of Glory (HOG), the official keg hammer of Philly Beer Week, and its over-the-top journey across the city to arrive at the Opening Tap, conveyed by everything from kinetic sculpture to zip line to Philly Roller Girls;  The Forum of the Gods, a first-time event from 2010 that brought together some of the biggest names in local and national brewing for an informal round-table discussion;  and scores of every type of beer event from Festivals to Food and Beer Pairings to the most popular "Meet the Brewer" events.  An enhanced iPhone app, inspired by the success of the 2010 version, is also in the works, as additional smart phone apps for other wireless customers and of course, continued updates to www.phillybeerweek.org, which received 10 million hits during PBW 2010 alone.
"Based on extensive surveys of this year's participants, we're excited to begin working to make PBW 2011 every bit as successful as this year's event," says Russell.  "We encourage previous participants to join us once again, and we can't wait to welcome first-timers to PBW, as well."
About Philly Beer Week
Philly Beer Week is a 10-day celebration of the Best Beer-Drinking City in America.
Established in 2008, it's the largest beer celebration of its kind in America, featuring hundreds of festivals, dinners, tours, pub crawls, tastings and meet-the-brewer nights to area bars, restaurants and other locations throughout Greater Philadelphia.
Philly Beer Week highlights the region's diverse beer scene – its world-class breweries, neighborhood taverns, trend-setting restaurants and rich beer culture and history. Philly Beer Week draws thirsty beer fans from throughout the region and beyond, making it one of Philadelphia's key annual tourist events.
Philly Beer Week is organized and operated by Philly Beer Week Inc., a non-profit 501(c)(6) organization overseen by a board comprised of brewery owners, distributors, restaurant owners and others, to promote Philadelphia's beer and hospitality industries.
For more information, visit www.phillybeerweek.org/about_pbw.cfm