Oregon Craft Beer Month Kicks Off July 1, 2012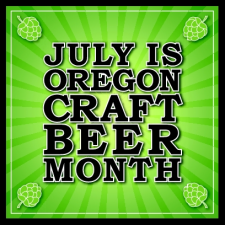 Portland, Ore., June 6, 2012 – Oregon craft beer has become as much a symbol of Oregon as the state's snow-capped peaks, Douglas-firs, wild salmon and die-hard outdoor enthusiasts. In celebration of one of our state's most delicious icons, the Oregon Brewers Guild will host the 7th annual Oregon Craft Beer Month(OCBM) again this July. The festivities include more than 350 beer events across the state.

"Oregon is located at the confluence of one of the best agricultural growing climates in the country," says Brian Butenschoen, Executive Director of the Oregon Brewers Guild. "It's no wonder that with our vibrant urban centers and proximity to incredible outdoors, we've become known for both our great beer, and our one-of-a-kind beer culture."

This year, the Oregon Brewers Guild kicks off OCBM by premiering a movie about the Oregon Brewers Festival, on July 5th at Portland's Mission Theater. The film, called "My First Oregon Brewers Festival ," celebrates the 25th anniversary of the wildly successful Oregon Brewers Festival, including interviews with Oregon brewers and industry members. Prior to the screening, a panel featuring the festival's creators will discuss the OBF's early days. The panel includes Art Larrance of Cascade Brewing; Kurt & Rob Widmer of Widmer Brothers Brewing; and Karl Ockert, the former brewmaster at BridgePort Brewing and current Technical Director for the Master Brewers Association of the Americas. There has also been mention of a few surprise panelists – stay tuned at www.oregonbrewfest.com for up-to-date details. This is a 21+ only event and there is no cover charge. Seating available on a first-come, first-served basis and is limited to 300 people.

Oregon is home to more than 140 craft breweries, making it the second-largest craft beer producer in the US. The abundance and unique flavor characteristics that have come to define Oregon craft beer will be reflected in the 350+ craft beer events set to take place at breweries, brewpubs, bars and restaurants all over Oregon in July. Consistently ranked one of the best brew festivals in the country, the Oregon Brewers Festival (OBF), takes place July 26-29, and is the month's biggest celebration, drawing more than 80,000 people. Large-scale July events like the OBF offer great contrast to smaller celebrations of Oregon's beer culture like Bend's Fermentation Celebration brewery walk and sampling on July 12th in the city's historic Mill District.

Sample the flavor and culture that makes Oregon craft beer worthy of a month of celebration at these other July events:

July 26th, 11:30 am to Noon

Join 600+ fellow beer lovers and march from the Cascade Brewing and Barrel House on the corner of SE 9th & Belmont Street, then head across the Morrison Street Bridge, to the opening ceremonies of the 25th annual Oregon Brewers Festival. Tom Dalldorf, founder and publisher of Celebrator Beer News, will be joined by event founders Art Larrance, Kurt Widmer, and the funky sounds of the Transcendental Brass Band, to lead the march. Marchers must be 21+ and should receive a wristband at 9th and Belmont before the march to enter the festival upon the parade's arrival at the OBF gates.

•    Chatoe Rogue Single Malt Ale and OREgasmic Ale Release

July 1st, 6:00 pm

Oregon Craft Beer Month gets two of its own all-Oregon and Grow-Your-Own certified beer this year from Rogue Brewing. Made from 100% Oregon ingredients grown on Rogue's Hopyard (Independence, OR) and Barley Farm (Tygh Valley, OR), the beers reflect Rogue's commitment to showcasing the terroir of Oregon Hops and Barley. Head to any Rogue Ales Oregon Public House or The Green Dragon at 6pm July 1st to join them for a collective toast to the best month of the year!

July 26-27-28, Noon to 9:00 pm daily and July 29th from Noon to 7:00 pm

Head to the Tom McCall Waterfront Park for one of the nation's longest running and best loved craft beer festivals. Eighty-two craft breweries from all parts of the nation offer more than 30 styles of handcrafted brews to 80,000 beer lovers during the four-day event. A Buzz Tent offers another 50+ rare and specialty beers. The festival also hosts food vendors and well-known live music. For more info, visit www.oregonbrewfest.com. This is a 21+ event, admission is free but in order to consume beer, the purchase of a 2012 souvenir mug is required and costs $6. Mugs from previous years will not be filled. Beer is purchased with wooden tokens. Tokens cost $1 each.

For a full list of the goings-on around the state, head to www.oregoncraftbeermonth.com.

#  #  #

About the Oregon Brewers Guild

The Oregon Brewers Guild is Oregon's non-profit trade association for the state's independent breweries. The Guild, which receives no state funding, comprises 88 brewing companies, 57 associate or supplier members and more than 3,200 enthusiast members or S.N.O.B.s (Supporters of Native Oregon Beer). For more information, see www.oregonbeer.org.