Oakshire O'Dark: 30 Bottle Release Party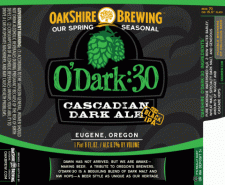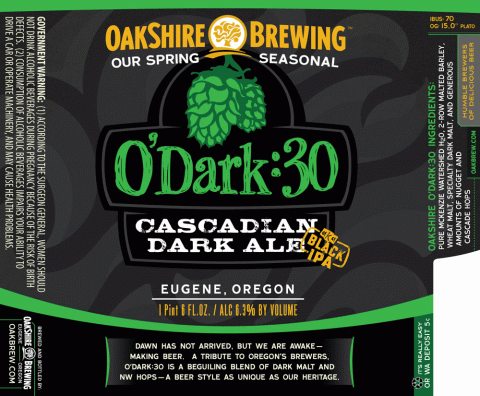 Oakshire O' Dark: 30 Bottle Release Party and Meet-the-Brewer 1/24 @The Hop & Vine
The original bottled Cascadian Dark Ale returns to the market! O' Dark: 30 from Eugene, OR's Oakshire Brewing debuted last year as the first ever bottled and properly named Cascadian Dark Ale not Black IPA. The beer and the naming proved so popular soon other breweries followed suit.
On Monday 1/24 from 6-9pm come meet Brewmaster Matt Van Wyk who will be pouring free samples of O' Dark in The Hop & Vine's brand new bottleshop now open in the adjacent space and the beer will be available on draft at the bar.
Monday January 24th 6-9pm
The Hop & Vine
1914 N. Killingsworth
Portland, OR 97217
503.954.3322
thehopandvine.com
Description: An emerging style in the Pacific Northwest. CDA's are a blend of IPA
and Dark Porters or Stouts. With a citrus and pine nose, yet a jet black color and a balanced amount of roast and chocolate flavors, this new style strikes the perfect balance between hops and malt. Crafted with Cascade hops and a special dark roasted malt from Germany, we feel O'Dark:30 is a leader in Northwest CDA's.
Availability: Spring Seasonal
Package Type: Draft and 12/22 oz. Bottle
O'Dark: 30 Specs:
Beer Style: Cascadian Dark Ale
O.G.:15.0 Plato – IBU: 70 – ABV: 6.3%
Food Pairings: Bold foods. Grilled meat. Game. Rogue Smoky Blue, aged gouda, chocolate truffles, Chocolate Rasberry cake
Base Malt(s): Rahr North American 2-row
Specialty Malt(s): Great Western Wheat Malt, Weyerman Carafa III
Bittering Hop(s): Nugget
Flavor/Aroma Hop(s): Cascade
Dry Hop(s): Cascade and Centennial
Water Treatment: Gypsum
Mash Temperature: 156
Yeast Strain: Cal Ale Yeast
Fermenation Temp: 67
Total Tank Time: 21 days