Northwest BEST Brewfest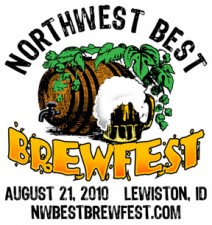 The second annual Northwest Best Brewfest August 21, 2010. Located in Lewiston, Idaho at the confluence of the Snake and Clearwater Rivers, the Northwest Best Brewfest is an affordable way to spend a Saturday afternoon. Just $10 will get you 5 tastes of beer and a souvenir glass for the first 1,000 through the gate (when the glasses run out, you'll get a plastic cup). Re-using of last year's glass is not permitted. Anyone sampling the beer will need to pay for the initial ticket to get a current glass or cup. Additional tokens are just $1 each.
All ages are welcome and admission is free, you only need to buy a ticket if you plan on tasting the beer, and of course, you must be at least 21 to do that. Taps open at noon, and advance ticket holders will be allowed thru the gate starting at 11:30. Bands scheduled to perform are: Small Town Boys, Highway 12 and the Simon Tucker Group.
Happy Day Catering and the Wayback Café will be on hand with plenty of food, we'll have some merchandise vendors, including lots of beer gear, and of course, 40 beers to choose from! We will also give you a free ride home, or to a local hotel or campground, if you need it. Find us on facebook, and help spread the word!
$10 ticket gets a commemorative glass (limited to the first 1,000 through the gate) and 5 beer tokens.
Additional Beer tokens available for $1 each.
1 tokens = 4 ounce sample , 4 tokens = full 16 ounce beer..
help "fill the boot"
By attending the second annual Northwest Best Brewfest, you'll be helping our local firefighters Fill the Boot for the MDA! You don't want to miss the "Pipes & Drums" when they deliver the ceremonial first keg at Noon! Firefighters will be helping with all aspects of this Brewfest to earn money for Jerry's Kids, as part of the proceeds will be donated to this fantastic cause! Fire boots will also be placed at each beer for tips. Please remember to tip generously with cash…no tokens please!
For more info visit nwbestbrewfest.com