North American Organic Brewers Festival – Recap & Pictures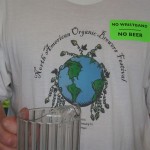 During the weekend of June 24 – 26, 2011, the sixth North American Organic Brewers Festival was held at Overlook Park in Portland, Oregon to benefit the Leukemia Lymphoma Society and the Oregon Food Bank. This festival was unlike any beer festival attended in the past.
Admission is free, but you have to get a wristband and buy a reusable, compostable cornstarch glass for $6 to taste the beers. Participants were encouraged to use public transportation, ride their bike, or donate three cans of food. Those who did one of those got $1 off their glass. Tokens were purchased for 4 ounce tasters or full glasses of beer.
The festival's focus is to raise awareness about organic beer and sustainable living and strives to be the most earth-friendly beer festival in North America. This was evident by the compostable glass, multiple sites for recycling on the grounds, and vendors promoting energy conservation, bamboo clothing, earth friendly products, and education about sustainability. Festival volunteers wear organic cotton and hemp t-shirts and all event signage is reusable. We met volunteers who come back every year and a couple who flew in from San Diego to volunteer at the event.
Breweries came from Oregon, Washington and California. Some of these breweries produce organic beers year-round while others made a one-off for the event. All of the beers were either 100% organic, organic (95-99%) or made with organic ingredients (70 – 95%). In addition to beer, there was an organic cider by Alpenfire Cider and a selection of kombuchas from Porches Brewing Company.
Many styles of beer were available including pale, golden, cream, red and blonde ales, IPA, saison, stout, wheat, black lager, kolsch, Cascadian dark ale, altbier, tripel, porter, doppelbock, pilsner, and dubbel. In addition to brewing with honey, herbs, chocolate or fruits, some brewers used ingredients that were unique and unexpected.
Four beers stood out for their uniqueness. Fort George Brewery brought Spruce Budd Ale, a tree beer brewed with 35 pounds of spruce tips per batch. Close your eyes, and the aroma took you from the park to the beautiful forests surrounding Portland. MateVeza Brewing used yerba mate, from leaves of the South American rainforest holly tree in their IPA. Upright Brewing poured their Reggae Junkie Gruit, a light brew made without hops. Widmer brought the closest thing to a breakfast beer with Crunchy Dude, a pale ale brewed with oats and 25 pounds of organic granola made with raisins, dates, sunflower seeds and hazelnuts.
Overall, the festival was very enjoyable in a beautiful outdoor setting even though the sun only made brief appearances on Friday. Portland's own PDX Home Brewers Club brewed at the park and participants could smell the ingredients in the pot and see the spent grain. Participants could also burn off some beer calories by climbing on the Brewcycle, a one of a kind vehicle powered by up to 15 people who could drink beer while peddling around the park.
To read more about organic brewing and the festival, go to www.naobf.org
Recap and Pictures courtesy of Pat Callard.
Would you enjoy covering a craft beer event for The Full Pint? Please contact us via our contact form, or privately on Facebook or Twitter and perhaps you might become our next field correspondent.