North American Organic Brewers Fest 2011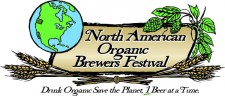 The North American Organic Brewers Festival starts one week from tomorrow at Portland's Overlook Park. Remember, Drink Organic, Save the Planet – One Beer at a Time!
7th Annual North American Organic Brewers Festival – Designed to raise awareness about organic beer and sustainable living, the NAOBF serves up 50 organic beers and ciders from around the nation. There's also live music, organic food, sustainability-oriented vendors and non-profits, a root beer garden with complimentary Crater Lake Root Beer for minors and designated drivers, and a children's area with crafts and face painting.
The festival goes beyond beer tasting by striving to be the most earth-friendly beer festival in North America. Festival attendees sample beer from reusable and compostable cornstarch glasses made from domestically grown corn by a zero-waste, solar-powered company. Onsite composting and recycling stations are provided for festival waste, and food vendors are required to use compostable cutlery and plates. Electricity needs are met with a combination of biodiesel and solar generators. Volunteers wear organic cotton, bamboo and hemp t-shirts, and all event signage is reusable.
The NAOBF is a family friendly event, and minors are welcome with parents. The festival benefits the Leukemia Lymphoma Society and the Oregon Food Bank.
WHERE
Overlook Park, Portland, Oregon
N Fremont St & Interstate Ave
WHEN
June 24 – 26, 2011
Noon to 9 p.m. Fri & Sat, Noon to 5 p.m. Sun
COST
Admission into the event is free. The purchase of a $6 reusable, compostable cornstarch glass is required for tasting beer, as are tokens, which sell for $1 apiece. A full glass of beer costs four tokens and a four-ounce taste costs one token (select beers cost double tokens). Patrons receive a $1 discount toward the tasting glass with a validated MAX ticket, a ticket from the on-site fenced bike corral, or three cans of food for the Oregon Food Bank.