News from River Horse Brewery

For all of you who made it to Shadfest this Spring, Thank you so much. It was our biggest Shadfest ever, we went through 30 kegs of River Horse and 30 bottles of water. Just kidding, I'm exaggerating about the water.
We've been working hard to get more River Horse and local taverns and restaurants. In New Jersey, check www.greatbrewers.com to learn where you can find RH.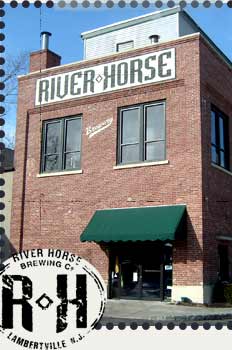 New Beer Dashboard:
Batch #002 of our Brewer's Reserve Limited Edition Series is now available. This latest Batch is an Imperial Cherry Amber. Unlike its hoppy counterparts, this Double Amber is moderately hopped with cascade hops, and is brewed with a natural tart cherry to balance it's malty base with just a mild cherry accent. We are proud of this one and hope you enjoy it.
What's in the tank?
This September look for a draft only Oktoberfest release from RH. This Dunkel Lager (keenly named "Dunkel Fester" by Chris Walsh) will have more toffee and chocolate flavors while retaining the superb drinkability of a traditional Dunkel.
Upcoming Events:
August – Mid-September
Saturday August 16th
Beer Fest At The Ballpark from 3:00 – 7:00 at Citizens Bank Park Find details @ www.mcfaddensballpark.com
Thursday August 28th
Meet Your Maker at Salt Gastro Pub in Stanhope, NJ at 6:30 PM
Find Details @ www.saltgastropub.com
Friday September 5th
Beer Tasting at The Washington House in Sellersville, PA
Find Details @ www.washingtonhouse.net/beertastings.html
Sunday September 7th
Annual MS Hops to Hops Bike Ride @ River Horse 9:00 AM
Find Details @ www.nationalmssociety.org/njm
September 9th
River Horse Beer Dinner at Braddock's Tavern in Medford, NJ
Find Details @ www.braddocks.com
September 13th
Lehigh Valley Brewfest in Easton, PA 2:00 PM – 6:00 PM
Find Details @ www.lvbrewfest.org/cwo/Home
September 14th
Jenkintown Jazz and Brewfest in Jenkintown, PA 1:00 PM – 6:00 PM
Find Detail @ www.jenkintownjazzandbrewfest.com
Also, please join us at the Brewery in Lambertville for our own annual Oktoberfest party October 11th and 12th. For Live Music, Food and of course, great beer. 12 – 5 each day
Cheers,
The River Horse Team
Chris, Glenn, Tim, Christian, John, Jeremy (a.k.a. the Newby), Leo, Ian, Gail and Dale
River Horse Brewery, Lambertville, NJ. 609.397.7776 www.riverhorse.com