Naja's Place 2nd Annual IPA Fest W/ Tap Line Up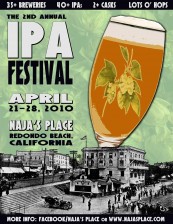 Redondo Beach, CA –  Will be holding their 2nd Annual IPA Festival. Over 35 breweries will be represented with over 40 IPAs including 2 Casks.
Here is the tap lineup for this hop-a-rific event. (Click image to see event poster)
1. Russian River Pliny the Younger
2. Russian River Pliny the Elder
3. Shipyard XXXX IPA
4. Shmaltz Bittersweet Lenny's Rye IPA
5. Avery Maharaja (2009)
6. Port 2nd Anniversary
7. Deschutes Hope Henge
8. Sierra Nevada Handful of Hops
9. Speakeasy Double Daddy
10. Avery DuGana IPA
11. Bruery Mischief
12. Port Mongo IPA
13. Firestone Double Jack (2)
14. Alesmith Yulesmith
15. Mission Ship Wrecked
16. Coronado Idiot IPA
17. Anderson Valley Imperial IPA
18. Stone 13th Anniversary
19. Sierra Nevada Hoptinum
20. Moylan's Hopsickle
21. Green Flash Imperial IPA
22. Flying Dog Double Dog IIPA
23. Abita Double IPA
24. Bottlegger's Knuckle Sandwich
25. Drake's Denoginnizer (GABF Silver IIPA)
26. Dogfish Head Aprihop
27. Urthel Hop It!
28. Deschutes Hop Trip
29. Avery Maharaja (2010)
30. New Belgium Ranger IPA
31. Stone Ruination IPA
32. Dogfish Head 90 Minute IPA
33. Marin Brass Knuckle
34. Ballast Point Dorado DIPA
35. Ballast Point Sculpin IPA (GABF Silver IPA)
36. Firestone Union Jack (GABF Gold IPA)
37. Eagle Rock Red Velvet
38. Ballast Point Tongue Buckler
39. Lost Continent Oak-Aged Continental IPA
40. Flying Dog Raging Bitch Belgian-style IPA
41. Karl Strauss Big Barrel Double IPA
42. Tustin Double Rye IPA
43. Taps Brewery & Fish House IPA
44. Mikkeller Single Hop (Warrior)
45. Mikkeller Single Hop (Chinook)
46. Firestone Union Jack (GABF Gold IPA)
47. Russian River Blind Pig (GABF Bronze IPA)
In addition, there will be 5+ surprise IPAs and 3+ casks (including Ballast Point Sculpin IPA and Strand Brewing 24th Street Pale Ale *double dry hopped)
Cost: $30 (includes commemorative glass & six 6-ounce tasters).  Additional tasters $10/ for 2 tasters (6-ounce pour)
Date: Kicks off Wednesday, April 21, 2010 at 4:00pm.
Please check out the Naja's Place fan-page on Facebook for up-to-date information.
Come enjoy more palate-crushing IPAs under one roof ever seen in Greater Los Angeles.
Hope to see you there!
Naja's Place , 154 Internatl Boardwalk Redondo Beach, CA 90277-3611