Monkish Brewing Celebrates 3rd Anniversary – March 14, 2015
(Torrance,CA) – It's amazing how fast time flies. Young craft brewery Monkish Brewing from Torrance, CA (South Los Angeles) turns 3 this month, and will be celebrating with a special tap lineup and bottle sale.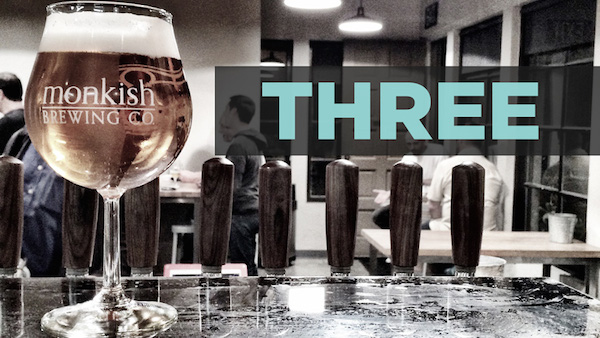 we're turning three
It's been 3 years since we've opened. Three years! As we approach this weekend which marks this milestone we are mindful of how grateful we are of you supporting and embracing our vision, brewery, people, and beers. Thank you for another memorable year! — Adriana & Henry
Stop by this Saturday and enjoy a beer with us!
>>SAT 3.14 (1-8p) BEER LIST:
We dug around and found some kegs and bottles to pour on Saturday. This is what we have so far:
CRUCIS  || single conditioned w/ brettanomyces (Brux)
ST. CITRA || Citra single-hop belgian pale
SELECT MONK 1 || multi-grain single dry hopped w/ Sorachi Ace
SELECT MONK 3 || multi-grain tripel dry hopped w/ Sterling and Sorachi Ace
SELAH || saison w/ brett
HEM & HAW || dark saison w/ brett
ARRIVANT || rye saison w/ brett
FUNKY HABIT || brown saison w/ brett
SEME DELLA VITA || tripel w/ pistachios and vanilla bean
CAFFE DELLA VITA || tripel w/ pistachios and vanilla bean AND COFFEE
APOPHATIC || dark specialty ale w/ orange peel, cinnamon, coriander,  fennel seed
DARK NIGHT OF THE SOUL || belgianized imperial stout
BOURBON-BARREL-AGED MAGNIFICAT || bourbon-barrel-aged spiced winter ale
SHAOLIN KICK [ON CASK] || dubbel w/ sichuan peppercorns + THAI BASIL + SRIRACHA
Also we're selling bottles of SELECT MONK 3 and a few bottles of DARK NIGHT OF THE SOUL and APOPHATIC.
>>THANK YOU!
"I couldn't be more thankful for the loyal guests who have become great friends! The hilarious conversations and amazing memories are what keep me excited to come to work every weekend!"
— Liz
"Thank you to everyone who comes in and supports Monkish! It means a lot to see people we care about enjoying our beer, and making it possible for us to continue to brew more. Cheers!"
— Jen
"I am so grateful for everyone that has supported us over the past three years. I came to Monkish a year ago, and like most of you, my first experience of Monkish was one in which I wanted to come back immediately! Thank you, thank you! The upcoming years are going to be even better!!"
— Brian
"I would like to thank all our supporters and patrons at the tasting room. You have truly make our jobs fun and exciting. We hope you continue to be part of our Monkish family at the tasting room."
— Sal
"Thank you, Henry and Adriana for allowing me to come alongside you as you build this great brewery. I'm continually impressed by your passion, your skill and your hearts!"
— Joel
Monkish Brewing is located at 20311 Western Ave, Torrance, CA 90501