Modern Times Black House Black Friday 2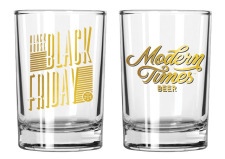 San Diego, CA – This event was such a radically kickass time last year, we just had to do it again. And Black Friday at Modern Times is the perfect time for it: you probably don't have to go to work, shopping is the worst, and these beers are frickin' delicious.
16 incredible variations on Black House & Monsters' Park, including Barrel-Aged Monsters' park
Here's the tentative tap list:
Black House w/ New Orleans-style coffee (i.e. coffee w/ chicory)
Black House w/ rye barrel-aged coffee
Black House w/ Kenya Nyeri Othaya Peaberry (i.e. Single Origin Black House)
Black House w/ Lost Spirits Navy Style rum soaked raisins
Black House w/ cinnamon, chilies, cocoa nibs, & vanilla bean (i.e. Mexican Hot Chocolate Black House)
Black House w/ bourbon soaked oak chips & orange peel
Black House w/ mezcal soaked oak chips
Black House w/ toasted coconut & vanilla beans
Black House w/ gingerbread
Double Chocolate Black House (Black House w/ Ecuadorian & Ghanian cocoa nibs)
Monsters' Park w/ Four Roses barrel-aged coffee
Monsters' Park w/ cocoa nibs, vanilla beans, & oak chips
Black House Blend Cold Press Coffee
Kenya Nyeri Othaya Peaberry Cold Press Coffee
Black House (super fresh keg)
Monsters' Park Imperial Stout
Pour Station
Monsters' Park Aged in Rye Barrels (one pour per person)
Monsters' Park Aged in Tennessee Whiskey Barrels (one pour per person)
Ice Cream Station
Add a small scoop of coconut ice cream to any pour above ($1 per scoop, cash-only)
We'll also have a slew of rad merch available for purchase, including three hot new pieces: a fresh pull-over sweatshirt design, Blazing World t-shirts, and a women's quarter sleeve scoop neck shirt, plus our legendary Ritzenhoff crystal tulips, pint glasses, shirts, beanies, hoodies, and more.
Tickets cost $35 and include ten 5oz tasters & a super sexy keeper glass. Each pour of any beer listed below requires one tab from your 10-tab wristband. There'll be two sessions: 12pm-4pm and 5pm-9pm.
Hope to see you all there!
SAVE THE DATE: Our annual Shalomaland Hanukkah Party will be Tuesday, December 16th and the Christmas Fiesta will be Tuesday, December 23rd. We're also planning a cockstaggering New Years' Eve Extravaganza, which will totally rock your world!
Cheers & thanks,
Jacob McKean
Modern Times Beer
www.moderntimesbeer.com – @ModernTimesBeer – facebook