Merkle's Bar & Grill 100 Bottles Of Beer Challenge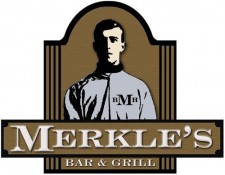 Chicago, IL – Wrigleyville Hot Spot Invites Patrons to Join Beer Drinkers Hall of Fame
Merkle's Bar and Grill, located in the heart of Wrigleyville, announces the 100 Bottles of Beer on the Wall Challenge. The contest invites patrons to attempt to try 100 different bottles of beer in 100 days to become a member of Merkle's Beer Drinkers Hall of Fame.  Winners will receive their names on Merkle's in-house Hall Of Fame Plaque, a $100 gift certificate to Merkle's, a logo t-shirt and other contributions from both local and national breweries.
Bartenders will keep score for the guests and visitors are encouraged to expand their beer palate by choosing from the in-depth selection of local, national and international beers and craft beers. Featured beers this month include Deschutes Red Chair Northwest Pale Ale ($5.00), Firestone Double Jack IPA ($7.00), Founders All Day IPA ($5.00), Lagunitas Fusion 16 ($5.00), Leinenkugels Summer Shandy ($5.00).
WHEN: Ongoing
COST: Varies depending on the beer
HOURS OF OPERATION 
Monday-Friday: 4:30 p.m. – 2 a.m.
*Open at 11 a.m. for early weekday Cubs games
Saturday: 11 a.m. – 3 a.m.
Sunday:11 a.m. – 2 a.m.
MERKLE'S BAR & GRILL 
3516 N. Clark St. Chicago, IL 60657(773) 244-1025
www.merkleschicago.com – @MerklesChicago – www.facebook.com/MerklesChicago
About Merkle's Bar & Grill
Since opening its doors in 2004, Merkle's has remained one of the best neighborhood bars located in the heart of Wrigleyville. Named after famed Cubs player, Fred Merkle, the bar and grill offers homemade American bar fare, a full service bar, and a constantly evolving beer list featuring local, American, and Belgian craft beers. Merkle's is Chicago's original Iowa Hawkeye bar and home of the Xavier Musketeers Chicago Alumni. Perfect for sports fans, foodies, beer geeks or someone looking for a great place to relax, Merkle's provides constant entertainment for patrons in the area. Ongoing events at Merkle's include Open Mic Nights for comedians, 100 Bottles of Beer on the Wall Challenge and live sports coverage for a variety of games. Private party options are also available.