Meet The Brewer Event With Societe Brewing Company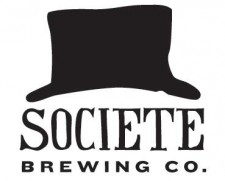 Restaurant at the Pearl is excited to join forces with San Diego's newest handcrafted Brewery, Societe on July 23rd for our Meet The Brewer Event! This will be Societe's FIRST EVER beer pairing dinner since they've joined the Craft Beer Revolution in San Diego. We have two seatings with one at 6:30PM and the other following at 8:30PM. This exclusive, craft beer and three-course food pairing will be led by the brewer and is only open to 15 people at each seating. Affordable, intimate and just $40 per person; be there or be square!
When asked about his thoughts on teaming up with us, Societe Brewer Douglas said, "To say the least, we are thrilled to have Societe's first beer dinner with The Pearl," He added, "Both Travis and I regard food very highly and love when it is paired with great beer. What is special and different about us is that we don't make a broad range of styles, but rather a broad range of beer within select styles. These are the beers we enjoy most and therefore want to focus all of our attention and energy into (IPA's and Belgians)."
To learn more about this up and coming San Diego Brewery, check out their website www.societebrewing.com. Seatings are super limited, so make your reservation today by sending a RSVP to [email protected] or call 619.226.6100 and ask for Danielle to secure your seat. A credit card will be required to hold your reservation with a 48 hour cancellation policy.
See you at Restaurant at The Pearl for a fun night of craft beer!
Meet The Brewer Event Featuring Societe Brewing Company 07.23.12
First Course
Dry Aged Short Rib
Brioche Bread / Pickled Onions
Paired With: Apprentice IPA

Second Course
Sea Bass
Orange Caviar / Caramelized Fennel / Thai Basil Fluid Gel
Paired With: Harlot Belgian Single

Dessert
Chocolate Sponge
Cherries / Pistachio Gelato / Short Bread
Paired With: Widow Belgian Dark Ale
Cost: $40 per person. For Tickets visit www.pearlsd.com Restaurant at the Pearl 1410 Rosecrans Street San Diego, CA 92106
www.societebrewing.com – @SocieteBrewing – Facebook