McGillin's Olde Ale House Gets A Jumpstart On Oktoberfest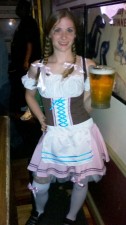 Oktoberfest Beer & Food, Pumpkin Drinks served starting late August Ends with Outdoor Beer Garden at Midtown Village Fall Festival on October 6
Philadelphia, PA – Are you ready to put the 100 degree summer days behind you in favor of cool autumn evenings? McGillin's is too! The 152-year-old tavern is getting a jumpstart on fall by launching its Oktoberfest celebration in late August. So, toss your bathing suit into the back of the drawer and put on your lederhosen! German beers and food and Pumpkin drinks will be served at McGillin's starting in late August.
McGillin's, Philadelphia's oldest continuously operating tavern, will serve Stoudt's Fest, Flying Fish's Octoberphish, Ramstein's Oktoberfest. Lancaster's Oktoberfest, Yuengling's Oktoberfest, Sly Fox's Oktoberfest Lager and a multitude of local and international Oktoberfest beers. Saranac's Pumpkin Ale will be added to the menu by September and the tavern will start serving its beloved Pumpkin Martinis and one-of-a-kind Pumpkin Bombs too.
Also starting in late August, McGillin's will add German fare to its hearty menu of reasonably-priced comfort foods. German lunch and dinner specials will include Mussels Steamed in Oktoberfest Lager served over Hay & Straw Noodles with German-Style Toasted Cheese Bread; Grilled Pork Loin with Sweet & Sour Cherry Sauce, Braised Cabbage, Apples & Potato Dumpling; German Style Grilled Sausage Platter with Bratwurst, Knockwurst, Red Cabbage & Warm German Potato Salad; and Kasebrotchen (Chicken Breast topped with German Style Spread of Ale, Brown Mustard & Sharp Cheddar Cheese & baked to a bubbly finish) and served with Himmel Und Erde and more.
The Oktoberfest celebration at McGillin's will continue through the Midtown Village Fall Festival on Saturday, October 6, when the tavern will turn Drury Street into a Giant Beer Garden with German beers and foods, a deejay, outside karaoke and more. The surrounding neighborhood — from Walnut to Chestnut and 12th to Juniper — will be filled with performances, family activities, food vendors and more, from 12 noon to 8 p.m.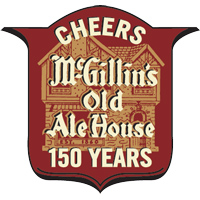 Oktoberfest
The first Oktoberfest was part of the wedding of Princess Theresa von Sachsen-Hildurghausen to Bavarian Crown Prince Ludwig in 1810. The celebration evolved into an annual event and over the years, horse races, performances and beer were added to the celebration. Eventually it was moved to September to avoid chilly Bavarian Octobers. Today, the celebration marking Ludwig's wedding day falls during harvest time and features large German beer festivals. Oktoberfest is not only a celebration, but also a style of beer. Oktoberfest beers are similar to the reddish-amber Marzen beer served at the Crown Prince's wedding – typically amber-gold lagers with pronounced malt flavors from Vienna malts and usually accented with German noble hops, such as Harlletau and Tettnang. They're robust beers with 5.2 to 6% alcohol by volume (ABV).
www.mcgillins.com – @McGillins – facebook