Maryland's Largest Beer Festival Returns As "Das Best Oktoberfest"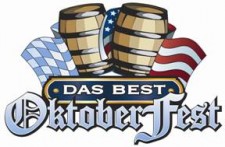 The Largest Beer Festival In Maryland Returns As Das Best Oktoberfest Rolls out the barrel at Nation Harbor. Now TWO big days – with sunday show hours added.
Washington, DC – Trigger Agency is proudly presenting the 3rd Annual Das Best Oktoberfest at the National Harbor on The Potomac in Metro Washington, D.C. on Saturday and Sunday, September 25th & 26th from 12:00 p.m. – 6:00 p.m. VIP Guests can enter an hour early at 11:00am.  The outdoor festival will include beer gardens celebrating over 200 unique, diverse and flavorful craft brews from Germany and all over the world, great German wines and schnapps, delicious German foods and other festival goodies, Oompah bands, Live Music, exciting contests and much more.
While sipping on brews and shopping around for numerous arts and crafts, attendees will be entertained by dancing and musical performances.  The main stage will consist of local acts such as Junk Food, The 8 Omhs Band and The Kelly Bell Band.  On the German Stage guests can enjoy the sounds of  the Edelweiss Band and The Continentals as they churn out all the best Oktoberfest and drinking songs. The Annual Biggest Beer Belly Competition and the Ms. Oktoberfest Competition are sure to also delight festival-goers.
"This show is a huge celebration of beer and the whole Oktoberfest experience.  Last year we had a record number of guests and we have had to offer a second day in order to accommodate the crowds," stated Greg Nivens, president of Trigger Agency, the show's producer. "Our goal is to bring every one of our guests a better understanding of Viel Gemutlichkeit."
Festival attendees can enjoy munching on German treats as well as American cuisine, take part in Bavarian-themed revelries, and appreciate the greatest microbrews from breweries around the World such as Heavy Seas, Sierra Nevada, Saranac, Paulaner, Erdinger, Ayinger, Widmer, Kostritzer, Wurzburger, St. Pauli Girl, Magic Hat, Guinness, Flying Dog Brewery,  Weihenstephaner, and hundreds of others.  Wines and spirits include Jagermeister, Berenjager, Schmitt Sohne, Barefoot Wines and Kammer Schnapps.
To purchase an admission ticket and a tasting mug it is $25.00 in advance or $30.00 on-site and includes a souvenir mug and six beer tokens.  VIP Admission and Tasting Glass is $45 and includes all-you-care-to-taste privileges and a special VIP area.  Designated driver admission is also available for $20 and includes admission to the event.  Kids 12 and under are free. For more information on purchasing tickets for the Das Best Oktoberfest, please visit www.DCOktoberfest.com or call 800-830-3976.