Madison Craft Beer Week 2012 – Tyranena Event Listing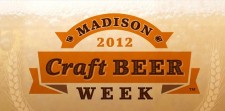 Here's a list of some of the events that Tyranena will be participating in during the 2012 Madison Craft Beer Week:
Saturday, May 5 – 3 Course Beer Breakfast at Stalzy's Deli in Madison from 7:30 am to 1 pm.
Located at 2701 Atwood Avenue, Madison – 608-249-7806.
Join Tyranena and Stalzy's Deli for a 3-Course Beer Breakfast inspired by the traditional Germany meal known affectionately as "Second Breakfast", consisting of sausage, pretzels and (of course) beers. Dive in to kick off Madison Craft Beer Week, get a bite to eat before you head to the Farmer's Market or, maybe, soothe your belly from any escapades that from the night before… Breakfast includes 3 perfectly paired courses of breakfast delights and a Tyranena beer. You can begin your meal anytime from 7:30 am – 1 pm. Tickets are available beginning on April 16 for $17 or will be available at the door for $19. Just stop into Stalzy's to purchase a ticket. Conrad Tufte, the esteemed Beer Ambassador, will be available to answer questions throughout the morning. Contact Stalzy's for more information.
Tuesday, May 8 – Wisconsin Beer & Cheese Night at Alchemy Café in Madison at 9:30 pm.
Located at 1908 Atwood Avenue, Madison – 608-204-7644.
What does everybody ask for when they visit Wisconsin? Beer and cheese, of course! Join us and our comrades from Lakefront and Central Waters Breweries for a sampling of beer and cheese.
Thursday, May 10 – Legendary Beer Tasting at Whole Foods in Madison from 6 to 7:30 pm.
Located at 3313 University Avenue, Madison – 608-233-9566.
It is said that in a place between Madison and Milwaukee, history and legend meet. Whole Foods Market is delighted to be joined by Conrad for a guiding pairing of our legendary Wisconsin beers and extraordinary Whole Foods Market delicacies. $25 per person – please register 24 hours in advance by calling the store.
Friday, May 11 – Tyranena Happy Hour at The Library in Madison from 5 to 7 pm.
Located at 320 North Randall Avenue, Madison – 608-251-1200.
Featuring our current Brewer's Gone Wild! release, Dirty Old Man Imperial Rye Porter, as well as Bitter Woman IPA and another brew yet to be determined (but certainly something delicious). We'll talk a bit about the beer and answer any questions… This should make for a tasty Friday Happy Hour!
Saturday, May 5 – Group Garage Sale, 9 am to 3 pm.
Sunday, May 6 – Great Taste Ticket Sales.
Sunday, May 13 – Mother's Day.