Los Angeles Vegan Beer Fest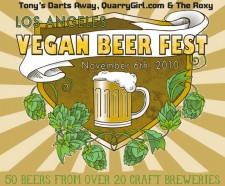 Tony's Darts Away owner Tony Yanow and vegan blogger Quarry Girl are co-hosting L.A.'s first Vegan Beer Festival at The Roxy Theatre this Saturday, November 6 from 1 p.m. to 5 p.m.
Expect unlimited pours of vegan beer from 24 breweries, performances from five vegan bands and vegan food from six different vendors.
General admission tickets cost $35 in advance and $45 at the door. It's $45 for VIP tickets in advance and $55 at the door, if they're still available. Proceeds from the festival benefit ARME, which works to "eliminate the suffering of animals."
Five Bands Announced –
We're happy to announce the following bands will be at LA Vegan Beer Fest 2010!
Paul Chesne
Owl Acid
Make Peace Brothers
Ease Up
Holland Greco
A Celebration of Vegan Food
Six vegan vendors confirmed! Expect delectable treats from:
The Frankenstand
Yalla Truck
Fresh Fries
Mandoline Grill
SeaBird's
Doomie's
Tickets Now On Sale!
Unlimited pours of dozens of beers included.
Special Advance Pricing, Just $35 for GA or $45 for VIP. Prices will go up to $45 and $55.
To buy tickets fee free call 310-278-9457 or visit the Roxy Theater Box Office on Sunset.
Online visit Ticketmaster