Los Angeles Beer Fest Benefitting Pints for Prostates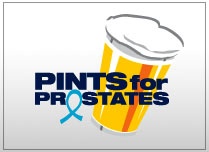 Pints for Prostates Los Angeles Beer Fest
Join us for the Pints for Prostates LA Beer Festival on June 19th to raise money for prostate cancer research.
Date: Saturday, June 19, 2010
Time: 1:00pm – 5:00pm
Location: Mr. Pockets Sports Bar
Street: 516 N. Sepulveda Blvd. Manhattan Beach, CA view map
There will be over twenty craft breweries serving some great beers, local restaurants serving food, a Woodford Reserve bourbon tasting and live music from The Firkins!
Treat Dad to a beer for Father's Day and help us raise money to fight this deadly disease. One in six men will be diagnosed with prostate cancer and every week, more than 4,000 men hear the words, "You have prostate cancer".
Tickets for the Pints for Prostates Los Angeles Beer Fest are $45 and on sale now at www.pintsforprostates.org.
This info was passed along by one of the event organizers, Chris Spradley (@beachbumchris). If you are in or around the Los Angeles area, I'd encourage you to go out and support Pints for Prostates. Stone 14th Anniversary Emperial IPA will also be making it's Los Angeles Debut for this event.
Breweries that will be serving at the event include:
(listed alphabetically with beer being served)
• Allagash Brewing (Portland, ME)
• Ballast Point (San Diego, CA) **Sculpin**
• BJ's Restaurant & Brewery (Huntington Beach, CA)
• Chimay (Belgium);
• Craftsman Brewing (Pasadena, CA)
• Firestone Walker (Paso Robles, CA) **DBA & Union Jack**
• Fireman's Brew (Woodland Hills, CA)
• Franziskaner Weissbier Brewery (Germany)
• Green Flash Brewing (Vista, CA) **30th St Pale, Le Freak, Trippel**
• Lagunitus (Petaluma, CA) **WTF & Gnarleywine**
• Lost Coast (Eureka, CA)
• Maui Brewing Co. (Maui, HI) **Big Swell IPA, Bikini Blonde Lager & Coconut Porter**
• New Belgium (Fort Collins, CA) **Ranger IPA**
• Newport Beach Brewing Co
• North Coast Brewing (Fort Bragg, CA)
• Schneider-Weisse (Germany)
• Sierra Nevada (Chico, CA)
• Spaten Brewery (Germany)
• Speakeasy Brewing (San Francisco) **Double Daddy & Prohibition**
• Stone Brewing (Escondido, CA) **14th Anniversary & IPA**
• Shiner (Shiner, TX) **Shiner Bock & Shiner Hefe**
• Telegraph Brewing (Santa Barbara, CA)
• The Bruery (Placentia, CA)
• Unibroue (Canada)
• Wolf Creek Brewery & Restaurant (Valencia, CA)
The following restaurants will be serving food:
Library Ale House
Blue Palms Brewhouse
Mr. Pockets Sports Bar
Only 250 tickets are available for this event so don't wait. Tickets will sell out!
Each guest will receive a 5oz Pints for Prostates taster glass.
Food will be served from 1-3pm.
Woodford Reserve samples are limited to ONE per guest.