Land Of 10k Beers' Craft Beer Hall at The 2012 Minnesota State Fair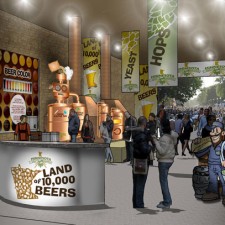 Housed in a wing of the Agriculture/Horticulture Building, the Land of 10,000 Beers exhibit hosted by the Minnesota Craft Brewer's Guild (MNCBG) will showcase the best of Minnesota's booming craft beer industry and will have something for everyone from craft beer newbie to home-brew aficionado.
The exhibit will showcase the brewing process all the way from the farm to the pint glass, tell the history of beer culture in Minnesota and will highlight Minnesota as a 'brew-cation destination'.
What: Minnesota Craft Brewer's Guild 'Land of 10,000 Beers' Craft Beer Hall at the 2012 Minnesota State Fair
When: Aug 23 – Sep 3, 9am to 9pm
Where: Agriculture/Horticulture Building, Minnesota State Fair Grounds
There'll be room for the kids with a fun-filled root beer section, as well as a specially constructed 'brew deck' for daily presentations from the state's top brewers and beer-making experts.
Minnesota Craft Beers will also be sold all day in the Hall. Visitors will be able to buy a rotation of four-beer sample flights featuring a varied collection of either light, dark, hoppy or sweeter Minnesota beers from more than 20 different Minnesota breweries.
The MNCBG, created in 2000, is now nearly 50 members strong including 35 breweries and brewpubs – growth of more than 30% in just 18 months. Craft beer's sales growth in dollars was up 14% in the first half of 2012, and volume sales were up 12%, where volumes of sales of general U.S. beer were down more than 2%. The American craft beer revolution is both a national and statewide movement. The State Fair Craft Beer Hall celebrates this.
The MNCBG welcomes all media to visit the Beer Hall and use the roomy exhibit as a venue for any shows or segments. We've attached some artist impressions of the Beer Hall, (which is roughly 90′ x 30′), so it has plenty of space for any media segments. We can make sure to pre-arrange a variety of Minnesota craft brewers and craft beer experts to show you all that the Beer Hall will have to offer Fairgoers. MNCBG representatives will also be on hand at all times to facilitate anything necessary to plan and execute a segment or shoot in the Craft Beer Hall.
For more information visit www.mnstatefair.org