LA Beer Week October 15-25 Including Beer Festival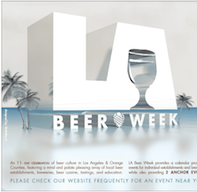 Get Ready for L.A. Beer Week, October 15-25
Celebration to Culminate with Beer Festival at Descanso Gardens
LOS ANGELES,CA – Local beer culture has really come into its own in 2009, as exemplified by the virtual explosion of beer festivals in the greater L.A. area over the past several months. And now comes the crowning event: LA Beer Week, to be held at venues all over the Southland October 15-25, highlighted by the closing weekend celebration, the L.A. Beer Week Festival, at Descanso Gardens in La Canada Flintridge Saturday, October 24 from 3:00 to 8:00 p.m.
Over 70 craft and artisan breweries from across California and throughout the world will be pouring their wares –– many of them special release and esoteric beers –– at the L.A. Beer Week Festival, which will be held in the unique setting of the five-acre Rosarium at Descanso Gardens, beautifully landscaped with plenty of shade trees, roses, streams, ponds and even hop vines! High-quality artisan food will be available from Patina Catering, including grilled meat and seafood, sandwiches, salads, snacks and non-alcoholic beverages. There will also be live Gypsy Jazz, courtesy of Gonzalo Bergara Quartet .
Tickets for L.A. Beer Week Festival are now on sale only at www.labeerweek.com/tickets.php, and are selling swiftly. Admission is $40 and includes entrance to the historic Descanso International Rosarium, the live music, and unlimited 4 oz. pours of beer. Food is not included in the ticket price, but is available to buy at the event, CASH ONLY (ATM or credit cards will not be accepted). Tickets are limited and must be purchased in advance; they will not be sold at the door. Proceeds will benefit the non-profit Spero Foundation, which raises awareness and capital for charities that bring hope to people in need.
The 11-day L.A. Beer Week is a far-reaching celebration of beer culture in Los Angeles and Orange Counties, as well as surrounding areas, and will feature a palate-pleasing array of breweries, local taphouses, tastings, pairings, examples of beer cuisine, meet-the-brewer events, and culinary and home-brewing demonstrations.
Among the many other events scheduled are:
October 14: An L.A. Beer Week Pre-Party featuring 20 beers from Stone Brewing Company and special guests at Naja's Place in Redondo Beach.
October 16: The debut of new Firestone Walker and Nectar Ales at Hollywood's Blue Palms Brew House.
October 17: The second annual Oktoberfest party at Verdugo Bar in Glassell Park, featuring food, music, contests and genuine German beer.
October 19: An evening of G. Schneider & Sohn beers and sausage at downtown L.A.'s Wurstküche.
October 21: A Moosbacher beer tasting at Stuffed Sandwich in San Gabriel.
October 21: Green Flash meet-the-brewer night with Chuck Silva at The Daily Pint in Santa Monica.
October 22: Molecular Beer Dinner featuring beers from the Bruery in OC at Seal Beach's Beachwood BBQ.
October 23: Chimay meet-the-brewer night with Dominique Denis at Lucky Baldwins in Pasadena.
For more information and events, visit www.labeerweek.com. More events are being added daily.
TheFullPint.com is a proud sponsor of LA Beer Week!