From O'Brien's Pub – Alpine,GABF and Cheese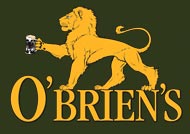 Some Good Beer News from Tom Nickel of O'Brien's Pub in San Diego, CA!
Hello Beer Fans!
The big news coming out of this past week's Great American Beer Festival is that Pizza Port Carlsbad was named Large Brewpub of the Year as brewer Jeff Bagby and his team took him an amazing 7 medals including FOUR GOLD MEDALS – Revelations, Beech Street Bitter, Reed's Wee Heavy and Cow Stout.  The rest of San Diego's breweries took home another 7 medals including a silver for Ballast Point Scuplin IPA and a gold for Lost Abbey's Duck Duck Gooze.
Blind Pig IPA took a bronze medal.  Hopworks Urban Brewery in Portland took the gold in the Imperial IPA.  Hollister took the silver medal in that category with Hip Hop – which we will have on tap for the Chargers game Sunday night.  The complete winners list can be found online at: www.greatamericanbeerfestival.com.  Congrats to Jeff and all of San Diego's amazing brewers! Back on the pub front, we will be tapping a cask of Alpine's new session ale, Tuatara, tonight at 5 pm.  It is a 4.2% alcohol, light colored ale with plenty of New Zealand hop punch.  It is named for a rare native lizard-like species that is the last living member of its animal order.  We also have the beer on draft right now and it is delicious.  Also new on tap is the New Belgium La Folie Flanders Brown, Port Brewing High Tide Fresh Hop IPA and the Alpine Bad Boy is back on tap for a very limited time.
This Friday is the 22nd Anniversary Party at Downtown Johnny Brown's.  Owner Todd Alexander has transformed this civic center pub into the best beer destination in down town.  He has an unbelievable line up of beer that includes Sculpin, Deschutes Black Butte XXI, Temptation, Rodenbach Grand and much much more.  The pub will even be serving Deus Champagne-style beer by the glass.  If you are heading downtown for a show or dinner, make sure to stop by and have a great beer.
Chargers
Over the weekend we be staying open late on Sunday night for the Chargers v. Steelers game at 5:30 pm.  The kitchen will be open until half-time and we'll stay open for about 30 minutes after the end of the game.  As mentioned, we will have the Hollister Brewing Hip Hop Double IPA on tap for the game.  Earlier in the day, we will show the Chelsea v. Liverpool game when we open at Noon on replay – we will also be able to replay it later in the day as well.  This weekend on Saturday, Holiday Wine Cellar is hosting a home brew competition for its anniversary.  Check out the details at www.holidaywinecellar.com.  If you have never been, Holiday has probably the best selection of beer in the county along with the Pizza Port bottle shop.
Beer and Cheese
Our Fall Beer and Cheese Pairings are coming right up.  The first class is on Wednesday, October 7th at 6:30 pm at Taste Artisan Cheese Shop in Hillcrest.  There are only 9 seats left for that class as of Wednesday the 30th.  The second class is Sunday, October 11th (Chargers bye-week) at O'Brien's at 6:30 pm and that class is about half full.  The classes include 8 beers and 8 cheeses paired together.  This time around we are using some very unusual beer styles that we have never used before including a bourbon barrel aged beer, a wet hop ale and a dark hefe-weizen.  There will be beers from five different countries as we take an around world tour of flavors.  Cost is $40 and you can sign up at the pub (cash only please) or pay at Taste with a credit card (619-683-2306 or find them on our website's friends page).
Next week you can look forward to a cask of Alpine Pure Hoppiness on Thursday the 8th at 5 pm.  I will be hosting a Belgian Beer Weekend on the 9th, 10th and 11th.  I plan on having at least 10 Belgian and Belgian-style beers on tap on Friday the 9th along with some great bottles available for the night.  Many of the beers will be on tap all weekend and I will tap new beers as other ones run out.  I will put out a list in next week's email but you can count on Val Dieu Grand Cru, Maredsous Blond and Craftsman Triple White Sage among others.  It will be a great weekend of Belgian beer flavors.
USA Soccer
On Saturday the 10th we will be showing the USA v. Honduras world cup qualifier on tv at 6 pm (time my change due to conditions in Honduras).  The game is only being shown on closed circuit tv, so there is no way to watch it at home.  The pay per view is hefty, but we will not be charging a cover for USA fans – though it would be much appreciated if you could help us out by enjoying multiple beers during the game and perhaps some food.  We will be showing the game inside and on the patio, but I am not sure if we will be able to show it on more than three tvs at the moment – I will know more next week and put it in the soccer email (which you can sign up for by replying to this email and letting me know you want to be on the list).  The Costa Rica game on the 14th is on regular TV and we will have it on as well.  If we clinch qualification or win the game against Honduras, expect the USA yard glass to be passed around and filled liberally.
Looking further ahead, we will tap two Alpine casks on Thursday the 15th at 5 pm – Nelson Rye IPA and Bad Boy Double IPA.  Monday the 19th the Chargers play the Broncos for Monday Night Football.  We'll have the game on all of our new tvs.  If you haven't seen the new big screen out front, it is worth checking out.  Our regular pitcher special will be in effect from 4:30 pm to close – $10 pitchers of craft/local beers and $14 pitchers of strong ales (not Belgian-styles though).  Our annual cask of AleSmith's Evil Dead Red will be on Thursday, October 29th and our Halloween costume party will be on Friday, October 30th.
Wet Hop and Beer Week
Our annual Wet Hop Beer Festival will be happening the weekend of October 23rd-25th.  I am expecting some great new beers this year from Oregon that we have never had.  When I have more details, I will pass them on.  And because I am still planning that festival, I haven't set firm dates and times on too many events during the upcoming San Diego Beer Week, November 6th-15th.  I know for sure that we will be doing the following events: Local Beer and Cheese Tasting on 11/8, Green Flash Cask and Barrel Aged beers on Monday the 9th and a rare bottle tasting with Lost Abbey's Tomme Arthur on Sunday the 15th.  We will also be doing events with Alpine, Rodenbach, AleSmith, Ballast Point and Bear Republic for sure.  The theme for our Beer Week is Cask and Barrel.  So we will be featuring lots of great cask beer and many rare barrel aged beers.  For all of the events around town, visit www.sdbw.org.
Many of you have noticed our ABC license posting claiming a change in ownership.  This is highly misleading as Lindsey and I are simply changing the LLC that owns O'Brien's over to a corporation.  Neither O'Brien's nor us are going anywhere, so do not worry.  The ABC considers this kind of transfer as new ownership even though it is still just me and Lindsey as owners.
That is your good beer news for now.  The new issues of Celebrator Beer News and South West Brewing News are in.  Check out the cover story on Alpine's Pat McIlhenney by yours truly.  There is even a photo of the Alpine Beer Company dog – Lucy – on the cover.  We'll see you soon for a great beer.
Cheers, Tom
Tom Nickel
O'Brien's Pub
20 Taps – Tons of Hops
4646 Convoy Street
www.obrienspub.net