LA Beer Week – Naja's Place Events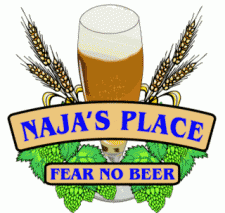 Here is the press release from one of the best beer bars in the country, Naja's Place in Redondo Beach, CA. They have plenty planned for LA Beer Week 2010. Make sure to catch at least one of these events.
Official LA Beer Week Kick Off Featuring… Stone Brewing Co.
Join us for the official launch party for LA Beer Week. This is the event to be at. We will feature Stone Brewing Co. (Southern California's largest craft brewery) with an unprecedented 40 Stone beers on tap!
That is the record for most Stone beers ever outside the brewery. Special guests will include Greg Koch (CEO), Steve Wagner (President), and Mitch Steele (Head Brewer). Commemorative Naja's Place/LA Beer Week t-shirts & glassware will be available all week. (7pm till 10pm)

Saturday, October 9, 2010
Ballast Point Brewing Co.
The madmen behind Sculpin IPA, Victory at Sea, and Sea Monster will make a special appearance on Saturday afternoon with 5+ hand selected (and rare) beers. Ballast Point is one of San Diego's premiere craft breweries and they have promised to bring some über-rare treats. Limited amount of specialty glassware will be available. (1pm till 4pm)
Wetten Importers: Belgian Beer & Artisanal Cheese Pairing
Spend Saturday evening at Naja's Place tasting some of the best Belgian beers in the world (from Wetten Importers) paired with some of the best artisanal cheese California has to offer.    Special brewery guests will be in the house (all the way from Europe!) Beers from Wetten Importers will include Huyghe Brewery (Delerium) & Brouwerij van de Brugse (Straff Hendrick). (5pm till 8pm)
Wednesday, October 13, 2010
Lagunitas Brewing Co. with Founder Tony Magee
Tony Magee, the Founder/Owner of this great San Francisco Bay Area brewery along with some brew crew will make a special South Bay appearance. Lagunitas beer lined up includes Little Sumptin' Wild and the ultra-rare Fusion 4! (8pm till 10pm)
Thursday, October 14, 2010
Local Craft Brewery Appreciation Night
This evening has one focus: Celebrating local craft beer culture in Los Angeles and Orange County. We will feature 10+ local craft breweries including Craftsman, Skyscraper, Bruery, and many, many more! Each one will bring one specialty beer of their choosing. Special guests from featured breweries will be in attendance. (8pm till 11pm)
Saturday, October 16, 2010
Great Divide Brewing Co. (South Bay Launch Party)
Great Divide beers have landed an impressive amount of acclaim: Great Divide beers have earned 16 Great American Beer Festival medals and 5 World Beer Cup awards. Great Divide was also ranked 8th in Ratebeer.com's 2010 "The Best Brewers in the World" and was ranked 7th in Beer Advocate's 2009 "All-Time Top Breweries on Planet Earth." Great Divide beers that will be poured include Yeti, Old Ruffian, Hercules Double IPA, and many more!
(1pm till 4pm)