LA Beer Week Festival at Union Station w/ Pics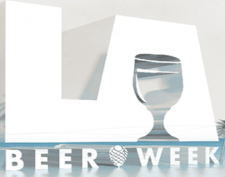 LA Beer Week 2010 has come to a close.  The grand finale was held in the form of a big beer festival at Union Station in Downtown LA yesterday. Here is a brief run down of the fun along with some pictures.
The weather was cool and rainy, but this didn't get in anyone's way of attending the LA Beer Week Beer Festival at Union Station yesterday.
In it's second year, this beer festival will go down in the books as a huge hit.  The event took place from 12 noon to 4:00 PM in the outdoor court yard at the historic train and bus station in downtown LA.  There were close to 70 breweries being represented, including many of my personal local favorites.
Just off the top of my head, were Samuel Adams, with some beers I haven't tried before, TAPS, Avery, Oskar Blues, Stone, Victory, Lost Abbey, The Bruery, Firestone Walker, Unibroue, He'Brew/Shmaltz, Kern River, Karl Strauss, Malheur, Lady Face, Eagle Rock,Cismontaine, and more.  The breweries that I sampled brought a very respectable lineup of their beers. I was most impressed with The Bruery, who gave Los Angeles a sneak peek of their Provisions/Reserve Society goodies as well as Loakal Red. Very tasty stuff. I don't want to get deep into it, but the Food Trucks were unorganized.
This is going to be our last post of the year for LA Beer Week, so I want to thank all the people who made this possible, and we are happy to say we have forged new friendships in the process.  Compared to last year, this years LABW went ten times better, and it wouldn't have been possible without all the hard work Team LA Beer Week put into it.