LA Beer Week – Dogfish Head Pairing at The Foundry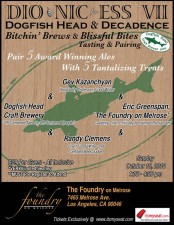 Randy and Gev are set to bring you an amazing culinary craft beer experience for LA Beer Week 2010 at The Foundry on Melrose.  The event is entitled Dionicess VII.  It's a great way to experience a higher end tasting, and to see how well Dogfish Head pairs with certain foods and flavor profiles.
There is a good chance Randy and Gev bust out some surprises in their Dogfish lineup, so don't think they will be pouring the DFH you usually see on the shelves here in LA.  Below is the press release from RandyClemens.com . Stay tuned for the menu, which is still in progress. – Cheers, TFP
It's official! The latest in the famed series of beer pairing events, Dionicess VII, will be taking place during the second annual LA Beer Week! Craft beer gurus Gev Kazanchyan and Randy Clemens have partnered up once again for another stellar beer pairing event, this time bringing together "bitchin' brews" from world renowned Dogfish Head Craft Brewery and "blissful bites" from Chef Eric Greenspan's The Foundry on Melrose.
Running on the momentum of our previous event (the SOLD OUT Dionicess VI held at Tony's Darts Away with Firestone Walker Brewing Company), we had to team up to bring you something epic during LA Beer Week. Taking place on Sunday, 10 October (yes, 10/10/10 — awesome already, right?), a five course lunch will be served al fresco out on the patio of The Foundry.
Beyond the exquisite cuisine, we are set to bring out some amazing beers from Dogfish Head, including several special releases that we were able to get our hands on that you aren't likely to see ever again.
Tickets are available now, but must be purchased in advance. Be forewarned, this event WILL sell out. Tickets are $79 per person, which includes all food, beer, and applicable taxes. Get yours now!