Jackson Pollock's Painting Party At New Holland Brewing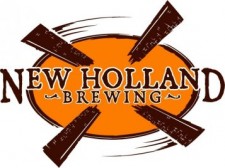 "Jackson Pollock's Painting Party" slated for May 25 at New Holland Brewing Co.
Holland, MI — Square Peg Events announces "Jackson Pollock's Painting Party," the next installment of the Artful Dining Series, a sequence of art-enhanced dinners combining food, art and ambience inspired by the work of some of the great art masters and the periods and cultures from whence they hailed.
Hosted by downtown Holland's New Holland Brewing Co. Restaurant & Pub, 66 E. Eighth St., the evening will immerse participants in the art and culture of American pop artist Jackson Pollock's rollicking 1950s Americana groove scene. Pollock (1912–1956) was an influential American painter and a major figure in the abstract expressionist movement.
Guests will enjoy a 1950s-style barbecue picnic ready for the grazing, beer sampling, music and ambience from Pollock's world and have an opportunity to create art in the style of his famed splash paintings using a variety of methods and media.
"The Artful Dining experience is about emersion of all the senses into the artist, his region and era. The three main components are the cuisine, the art and the ambiance," said Cynthia Hagedorn, owner and creative director of Square Peg Events, who will present insights into Pollock, his work and world, and facilitate the art creations.
"I'll talk about Pollock, but it's not a lecture; it's a party. The event will be very interactive within the group, very casual, and kind of out-of-the-box. It's a great value — for 40 bucks, you get food, drinks, art, music and camaraderie," Hagedorn said.
"You don't have to be an artist to come. This is just an event for anyone who wants to enjoy a great night of art and fun," she said.
Shawna Cantu, assistant general manager and "director of chaos' left-hand gal" at New Holland Brewing Co., said the cuisine will embody "a backyard barbecue with a gourmet flair," including beer floats, sliders, brats and other period specialties paired with some of the brewpub's unique line of popular craft beers and spirits.
"Our tagline is 'art in fermented form,' so this is a great event to bring different kinds of art together and show how painting, music, beer, spirits and food all relate to one another," Cantu said.
Hagedorn said participants are invited to dress in 1950s garb, if they're so inclined.
"The evening is a broad, blank canvas — you can make it whatever you want. You can dress, you can paint, you can enjoy the music, eat and drink."
Tickets for Jackson Pollock's Painting Party are $40 per guest and can be purchased at New Holland Brewing Co. or online at www.squarepegevents.com. Seating is limited to 40 guests. Advance reservations required; no door sales.
Additional planned installments of the Artful Dining Series include "More with Moore," "Renoir's Luncheon at the Boating Party," "Monet's Garden Party," Michelangelo's Ceiling," "Ansel Adams," "Frieda Kahlo's Fiesta!" and "Picasso's Perfect Holiday."
www.newhollandbrew.com – @newhollandbrew – facebook