IPA Fest At Naja's Place – Redondo Beach, CA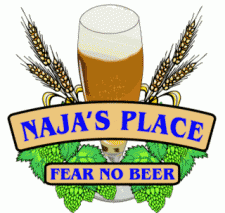 From TFP: I found this floating around on various OTHER beer sites, and wanted to share this with everyone else. Naja's Place is possibly one of the best beer bars in the country, and is located at the International Boardwalk in Redondo Beach, CA.
As mentioned before, Naja's Place (Redondo Beach) is kicking off their very first IPA Festival next Wednesday, April 22, 2009 at 2:00pm. The Festival will run for one week.
The following list is a glimpse of IPAs that will be poured… with some other rare treats to arrive shortly.
1. Bear Republic Apex IPA
2. Stone Cali-Belgique IPA
3. Russian River Pliny the Younger
4. Russian River Pliny the Elder
5. Firestone Union Jack
6. Port Brewing Hop 15
7. Sierra Nevada Chico Harvest IPA
8. Dogfish Head 90 Minute IPA
9. Victory Hop Wallop
10. Avery Maharaja 2009
11. Avery Maharaja 2008
12. Avery Maharaja 2007
13. Rogue XS I2PA
14. Stone Brewing 11th Anniversary
15. Mission IPA
16. Bear Republic Racer X
17. Speakeasy Double Daddy DIPA
18. Rubicon IPA
19. Bear Republic Racer 5 IPA
20. Stone IPA
21. Green Flash West Coast IPA
22. Mammoth IPA
23. Lagunitas IPA
24. ReaperAle Sleighor DIPA
25. Drake's IPA
26. Moylan's Moylander DIPA
27. Coronado Idiot IPA
28. Alaskan IPA
29. Angel City Belgian IPA
30. Bootlegger's Rye IPA
31. Marin IPA (cask)
32. Coronado Islander IPA
33. Ballast Point Sculpin IPA
34. Deschutes Hop Henge Experimental IPA
All the beers at the IPA Festival will be available by THE GLASS or by SAMPLE FLIGHTS.
Hope to see you there! Cheers!!
Visit this page for driving directions and contact info.