Hopunion Presents Alpha King 2012 At Rock Bottom – Denver Downtown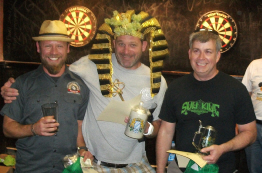 Named in honor of Three Floyd's Alpha King Pale Ale, the Alpha King Challenge is an annual competition held during the Great American Beer FestivalSM and is open to commercially licensed breweries throughout the United States. Entries are judged on overall quality and balance of flavor, and must have a minimum 60 IBUs (no barley wines allowed).
New location! Alpha king 2012 will be held at Rock bottom – denver downtown on friday, oct. 12th at 1:00 pm. Registration is sold out but you can still join us for an epic Battle of the brews!
While many will contend, only one will earn the crown. The Alpha King Challenge is a battle of the brews!  Since 1999, Hopunion LLC, along with Brewing News Publications and Three Floyds Brewing Company, has been scouring the country for the best hop-laden beers in the land. Each year, a team of brewers and veteran beer writers test the vigor of each year's hoppy findings and crown a new Alpha King, deeming his beer to be the holy grail of well-balanced and drinkable, yet highly-hopped ales.
In 2010, Jeff Bagby of Pizza Port in Carlsbad, CA, defeated 95 entries and earned his 2nd Alpha King Crown with "Poor Man's Double IPA". Remarkably, he repeated this win in 2011, conquering 107 entries from more than 70 breweries. Rich in flavor and bursting with hops, Bagby's "Poor Man's Double IPA" is no poor man's beer; it is an intriguing blend of bold citrus and pine flavors that set an extremely high standard for 2012's competition. Will Poor Man's Double IPA become the first 3-peat Alpha King entry or will another hop laden beer claim the crown?