Hoppin Frog Oktoberfest Lager Release Party Friday October 5, 2012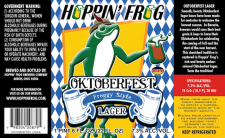 RELEASING HOPPIN' FROG OKTOBERFEST LAGER – THIS FRIDAY OCTOBER 5, 10:00 AM – 5:00 PM AT HOPPIN' FROG BREWERY.
Smooth, hearty Oktoberfest lager beers have been made for centuries to welcome the harvest season.  In Bavaria, brewers would save their best grain & hops to brew their Oktoberfests for celebrating the coming of Fall and the start of the new harvest.  This cherished tradition is captured in Hoppin' Frog's rich and hearty amber-colored Oktoberfest lager.  7.3 % alc./vol.  Price is $7.99 / 22-ounce bottle, with a 10% case discount available for mixed cases of 12.
AND, our friends Zydeco Bistro will have their mobile restaurant here, serving their inventive & flavorful twist on lunch 12:00 to 1:30 PM.  Including a specially-prepared German Bratwurst cooked in Oktoberfest beer just for the occasion!  Hope to see you then!