Harrisburg Brewers Fest '09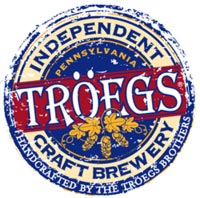 The 6th Annual Harrisburg Brewers Fest, Saturday, June 20th – Harrisburg, PA. Featuring the best craft brewers nationwide, as well as the best locals! Sponsored by Troegs Brewing Co.
Tröegs Brewing Company is teaming up with the Cystic Fibrosis Foundation of Central Pennsylvania to put on the Sixth annual outdoor beer and music festival in downtown Harrisburg.

2 sessions to reduce crowding – 2nd Session is SOLD OUT
A large festival site that includes Locust Street and Third Street!
Food vendors selling a wide variety of food!
Additional brewers with enough beer to serve the entire event!
A special VIP tasting event in between the beer festival sessions!
The double session event is scheduled to run from 12:00 to 3:30pm and 5:00 to 8:30pm on Locust and Third Streets with the main entrance at the corner of Second and Locust Streets in downtown Harrisburg. There will be samples from up to 50 breweries and up to 3,200 beer lovers from across the United States will attend this event. The ticket price covers unlimited beer samples from participating breweries, a collector's sampling mug, and entertainment from several bands. There will also be reasonably priced food concessions available.
Here is the list of attending breweries. Click here for even more information.
21st Amednment Brewing Company
Allagash Brewing Company
Allentown/Bethlehem Brew Works
Appalachian Brewing Company
Bell's Brewing Company
Boston Beer Company
Bullfrog Brewing Company
Capital City Brewing Company
Clipper City Brewing Company
Dogfish Head Brewing Company
Duck-Rabbit Craft Brewery
Erie Brewing Company
Flying Dog Brewery
Great Divide Brewing Company
Green Mountain Beverage (Woodchuck Cidery)
Iron Hill Brewing Company
Ithaca Brewing Co.
Lagunitas Brewing Company
Lancaster Brewing
Left Hand Brewing Company
Legacy Brewing Company
The Lion
Magic Hat
Manayunk Brewing Company
Market Cross Pub
Marzoni's Brewing Company
North Coast Brewing Company
Old Dominion Brewing Company
Old Forge Brewing Company
Otto's Brewpub
Penn Brewing Company
Philadelphia Brewing Company
Roy Pitz Brewing Company
Sierra Nevada Brewing Company
Sly Fox Brewery & Eatery
Smuttynose Brewing Company
Spring House Brewing Company
Stone Brewery
Stoudt's Brewing Company
Straub Brewery
Swashbuckler Brewing
Thirsty Dog Brewery
Tröegs Brewing Company
Uinta Brewing Company
Union Barrel Works
Redhook Brewing Company
Victory Brewing Company
Voodoo Brewing Company
Weyerbacher Brewing Company
Widmer Brewing Company
Yards Brewing Company