Happy Anniversary, Engine 15 Brewing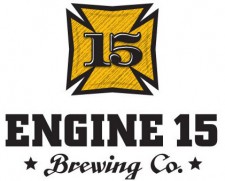 Jacksonville Beach, FL – It doesn't feel that long ago when 1500 Beach Blvd looked like the pic above – but it was 4 years ago. And it's been a great 4 yrs! Of course, Engine 15 Brewing couldn't have done it without you so we wanted to celebrate this milestone with the great beer, music & games you love so much.
The party is Saturday July 5 at the Brewery
Let's start with our NEW American Lager – J'ville (tapped on 4th of July). You guys are going to love this clean, refreshing beer just in time for the dog days of summer. We will offer $8 fills when you bring in your MaB (bought here or otherwise) – or if you need one we have a limited supply for $20. MaB fills are of J'ville only.
Next up, the bottle release of our Bourbon Barrel Aged Imperial Simcoe & Bourbon Barrel Aged Chupacabra. You loved it last year and we know you'll fall in love all over again so get it while it lasts. (2 bottle Simcoe and 1 bottle Chupacabra limits)
In addition to these fine new brews, we will have a killer tap list that day:
Engine 15 Old Battle Axe IPA
Engine 15 Double Drop IPA
Engine 15 904 Weissguy
Engine 15 Route 90 Rye Pale Ale
Engine 15 Nut Sack Double Brown Ale
Engine 15 Christmas Quad
Engine 15 Abbey Normal Belgian Double
*NEW Engine 15 J'ville American Lager
Engine 15 Russian Imperial Stout
Engine 15 Top Crop
2013 Engine 15 Chupacabra
2014 Engine 15 Chupacabra
2014 Engine 15 Bourbon Barrel Aged Imperial Simcoe
Wynwood IPA
Wynwood La Rubia Blonde Ale
Intuition Siren (Lager with Chili Peppers)
Intuition Dry Hopped Saison
Oxbow Farmhouse Ale
Plus many more of your favorites!
Chicken Shit Bingo is making an appearance for this amazing event – if you don't know what this is, you are in for a very special treat. We will also inaugurate our new giant Connect Four. And let's not forget the Oompa Band – One Step Ahead Of The Law – from 2:30-5pm. Bring your dancing shoes.
This will be one hell of an anniversary party! How will we ever top this next year? Wow. Seriously though, cheers to YOU guys for letting us support your drinking habits for the past 4 years. We love you guys!!
engine15.com – @engine15brewing – facebook