Hangar 24's 2nd Annual Oktoberfest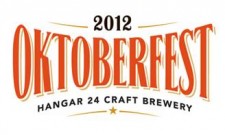 Redlands, CA – Hangar 24 Craft Brewery joins forces with the Optimist Club of Redlands for another family-friendly, community event.
This Saturday, September 22, Hangar 24 and the Optimist club will host the 2nd Annual Hangar 24 Oktoberfest at Sylvan Park in Redlands. The family-friendly event goes from 11am to 6:30pm and features traditional German music, food, activities and of course, Hangar 24 Craft Beer.
Traditional attire is encouraged and the best dressed will be invited to enter the costume contest. For those who don't have lederhosen or a dirndl, Hangar 24 has designed lederhosen and dirndl t-shirts currently for sale in the Tasting Room and Hangar 24 Online Store. T-shirts and commemorative steins will also be available at the event.
Admission is $5 for guests 21+.
All ages are welcome at the event and so as not to have to compete with the adults, children will have their very own designated activity area with games and activities.
Oktobefest Event Schedule, Saturday, 9/22:
11am – Doors open to the public
11am – 4pm – Stein holding prelims at the Optimist's Game Booth
12pm – 4pm – Yodeling contest auditions at the Optimist's Game Booth
2:45pm – Costume contest finals on stage
3:45pm – Yodeling contest finals on stage
4:15pm – Stein holding finals at the Optimist's Game Booth
5:00pm – Last Call
6:30pm – auf Wiedersehen
*Entries to the costume contest will be awarded throughout the festival by H24 between 11:30am and 2:30pm
*Hammerschlagen all day
*Bean bags all day
*Kids' zone all day
*Traditional German food from 11am – 6pm
*Hangar 24 Craft Beer served from 11am – 5pm
www.hangar24brewery.com – @Hangar24Brewery – facebook