Green Flash Brewing Supper Club With Verde Y Crema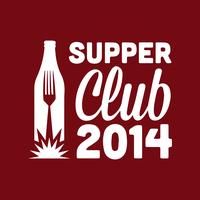 The Green Flash Brewing Supper Club is making friends South of the Border! We're extremely excited to be teaming up with one of Tijuana's most buzzworthy new eateries Verde Y Crema.  Join us for five perfectly paired courses prepared onsite served in the Tasting Room! The menu is in the works and we'll be announcing the pairings shortly. Get Tickets
Green Flash Brewing Co. – 6550 Mira Mesa Blvd San Diego, CA 92121
Monday, April 21, 2014 from 6:30 PM to 8:30 PM (PDT)
Join the Supper Club!
Get a discount on alll 4 Supper Clubs and these perks when you become a member. This ticket includes this dinner, membership and member items.  Get Tickets
Earlybird Ticket Access
15% discount on all supper clubs
Embroidered Apron
Embroidered Tea Towels
Commemorative Glass & Growler
Free Growler Fill at each Supper Club
10% off Supper Club Growler Fills in the tasting room all year at any time!
Get on the bus
San Diego's favorite tour company for food and beer events accross the border, Let's Go Clandestino are bringing a bus to the dinner from South Park. Enjoy a pre-dinner tour of the brewery and return transportation to and from Hamilton's with this ticket.
About the Restaurant! verdeycrema.com – @VerdeyCrema
"Verde y Crema is a restaurant project were we have the commitment of operating at the highest standards, that's the reason why we work with food suppliers that we have made a friendship with, people that work hard and produce local and sustainable food. We are convinced that being coherent, consistent, respectful and maintaining fair prices are the ways to achieve our objectives. "
About the Chef
Martin Vargas was born 25 years ago in Ensenada and raised in Tijuana, growing up to be a border kid. He works at Verde y Crema under the mentoring of Jair Tellez, whom he has worked with in the past few years in Merotoro, Mexico City and Laja, Valle de Guadalupe. Before working with Jair, he gained experience in Biko, also in Mexico City and Casa Fernanda in Tepoztlan, Morelos. His work in Verde y Crema reflects the actual state of Tijuana, with a fresh and straight forward attitude, but at the same time irreverent and honest.
www.greenflashbrew.com – @GreenFlashBeer – facebook