Green Flash 9th Anniversary Celebration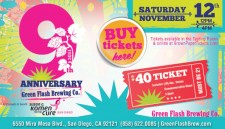 Green Flash 9th Anniversary Celebration – Specialty Beers & FREE Shuttle!
Our Anniversary Charity Celebration will be held on Saturday, November 12, 2011 from 12-4pm and all proceeds from the event will benefit the San Diego office of Susan G. Komen for the Cure. The ticket price of $40 includes 10 – 4oz. beer tastes, a souvenir glass, and commemorative t-shirt. The event will be in the Green Flash parking lot at 6550 Mira Mesa Blvd. in San Diego. Festival-goers must be 21 to enter and ID is required.
For more information visit www.greenflashbrew.com – Facebook – @GreenFlashBeer
Specialty Beers
Come out to try specialties and rare beer selections during our Celebration! These drafts will not be available in the tasting room during the event, so they are exclusive to Festival attendees:
9th Anniversary TRIPLE IPA
Sugar Smack Belgian Dubbel
Biere De L'Amitie
Special Cuvee Trippel
I Plead the Fifth – Hamilton's 5th Anniversary Black IPA
Silva Stout
Little Freak
Super Freak
Brandy Barrel Barleywine
Casks TBD!
FREE SHUTTLE
We will also be providing a FREE SHUTTLE to and from the festival for a select few locations. Please see the schedules below. If you don't want to drive, check out the schedule and hop on!