Green Flash 10th Anniversary / Chest Fest – September 8, 2012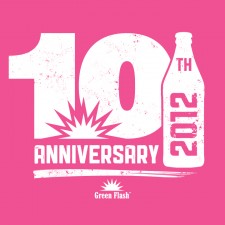 GREEN FLASH BREWING CO TO HOST 10th ANNIVERSARY BEER FEST SATURDAY SEPTEMBER 8TH 2012 | TREASURE CHEST FEST 2012
10th Annual Beer Festival to Benefit Komen for The Cure San Diego 
WHAT: Green Flash Brewing Co is kicking off their 10th Anniversary celebration with their biggest beer festival of the year.  For the 2nd year in a row, the anniversary celebration, now called Treasure Chest Fest is a fundraiser for local Susan G Komen for the Cure San Diego.
As always – the much-anticipated annual craft beer festival will feature a stellar lineup of the best from Green Flash, with limited, rare and specialty beers including:
Silva Stout Bourbon Barrel Aged Double Stout
Sleepin' with Shaggy Brandy Barrel Aged Barleywine
Treasure Chest Belgian Blonde Ale
Goddess Coffee Double Stout (collaboration with Caffe Calabria)
Little Freak
Super Freak
Vintage Le Freak
Highway 78 – Scotch Ale (Stone, Port Green Flash collaboration)
Casks Tapped On the Hour
…AND MORE!
And as is the beer weren't enough – the brewery has developed a fun-filled afternoon featuring the best in San Diego's food trucks, a fleet of classic cars, sassy pin up gals in swimwear from local designer, Fables by Barrie, over 14 vendors on-site featuring items to benefit the charity as well as samples to enjoy and Green Flash's signature festival games.  All proceeds from ticket sales as well as sales of Treasure Chest 2012 beer will be donated to Susan G Komen for the Cure San Diego.
Where:  Green Flash Brewing Co | 6550 Mira Mesa Blvd (at Flanders Drive) | San Diego, CA 92121
EVENT WILL TAKE OVER THE ENTIRE BREWERY PARKING LOT AND TASTING ROOM WILL BE OPEN SOLELY FOR BEER TO GO, GROWLER FILLS & MERCHANDISE SALES THE DAY OF THE EVENT
T – 858-622-0085
When: Saturday September 8th 2012 | 12pm – 4pm
How: Early bird tickets are available NOW for $30 at Brown Paper Tickets as well as in the Mira Mesa Tasting Room.  Admission will be $35 at the door. Cost of admission includes 10 Taster tickets and a commemorative glass. Must be 21+ to attend with valid ID.
About Green Flash Brewing Co.   Green Flash Brewing Co., is located in San Diego, California, and was founded in 2002 by Mike and Lisa Hinkley.  Brewmaster, Chuck Silva, leads brewing operations. Green Flash is an award-winning brewer of fine, hand-crafted ales, and specializes in brewing assertive and distinctive beers, such as the nationally acclaimed West Coast I.P.A.: an award-winning beer whose wide acceptance has helped define a category.  Green Flash brews ten styles of beer regularly, on draught and in bottles as well as a growing lineup of seasonal and special offerings, including several barrel-aged beers, throughout the year.  Please visit the Green Flash website www.greenflashbrew.com for more information.