GABF 2010 – Sneak Peek Part 5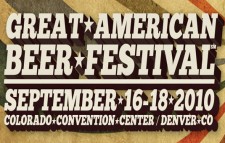 We caught up with many brewers this week, and wanted to find out their involvement in The Great American Beer Festival (GABF). Here are there responses to these questions:
1. What kind of presence will you have at GABF?
2. What beers will you be sending for the festival?
3. What beers will you be entering for judging and in what category?
Booth J-1

Beers pouring:
Black Butte Porter
Mirror Pond Pale Ale
Green Lakes Organic Ale
Inversion IPA
Jubelale
Twilight Summer Ale
Hop in the Dark – CDA
Black Butte XXII
The Abyss

Too many beers (46) to list out for the competition.
Allagash Brewing – Portland, ME
We will be at the GABF. We will be pouring White, Curieux, Four, Blonde and Fluxus 2010.  We have entered a few of our beers in the belgian style categories but we don't usually give out a list.
Terrapin Beer Co. – Athens, GA
Spike is going to be in Denver
We'll be sending Hopsecutioner (46), Iron Tankard (78B), Pumpkinfest (4B), CApt'n Krunkles (58), Monk's Revenge(68C)
North Coast Brewing – Fort Bragg, CA
We have practically no presence at GABF.  For a variety of reasons, not the
least of which is our limited people resources, we have not gone to GABF
since 2006.  The only beer of ours will be our 20th anniversary beer that
will be served at a seminar being conducted by our New York sales person,
Susan Greene.
Twisted Pine Brewing – Boulder, CO
1. HUGE!!! General Managers, Brewers, Owners, Former Employees, Tent, +1's, Merchandise, Future Employees, Stickers, Hotties!!!
2. Billy's Chilies, Northstar Imperial Porter, Reilly's Sour Raspberry Tart, Le Petit Saison, Big Shot Espresso Stout.
3. Billy's Chilies-Herb and Spice Beer-Subcategory A-Herb and Spice Beer. Northstar Imperial Porter-Baltic-style porter. Reilly's Sour Raspberry Tart-Wood and Barrel Aged Sour beer-Subcategory B-Fruited Barrel-Aged Sour Beer. Le Petit Saison -French/Belgian Saison.  Espresso Stout -Coffee Flavored beer.
Rubicon Brewing – Sacramento, CA
| | | |
| --- | --- | --- |
| RUBICON BEER NAME | GABF CATEGORY & STYLE | GABF SUBCATEGORY      & STYLE |
| | | |
| WINTER WHEATWINE | 11- Other Strong Beer | C- American Style Wheatwine |
| | | |
| RUHSTALLER'S | 33- American Style Amber Lager | B- California Common |
| | | |
| INDIA PALE ALE | 46- American Strong Pale Ale | |
| | | |
| GOLDFINGER | 52- Ordinary/Special Bitter | B- Special/Best Bitter |
| | | |
| E.S.B. | 53- Extra Special Bitter or Strong Bitter | A- English Style |
| | | |
| MAGGIE BROWN | 56- English Brown Ale | |
| | | |
| HIGH MOUNTAIN CHERRY | 66- Belgian Style Lambic or Sour Ale | C- Belgian Style Fruit Lambic |
| | | |
| STOUT | 71- Classic Irish Style Dry Stout | |
Erie Brewing Co will have normal booth at GABF.

We will be pouring at The following

Railbender Ale : The 2010 GABF Gold Medal and 2009 Bronze Medal Winning Scottish Style Ale
Misery Bay IPA
Mad Anthony's American Pale Ale
Presque Isle Pilsner
Derailed Black Cherry Ale

We will be entering the following beers for judging.

Railbender Ale ; Scottish Style Ale
Misery Bay IPA : American Strong Pale Ale
Mad Anthony's: Amber Ale
Presque Isle Pilsner: Blonde / Golden Ale
Derailed black Cherry Ale : Fruit Beer
Karl Strauss Brewing – San Diego, CA
1. We are sending our Brewmaster Paul and our Events & PR Manager
Melody.      We will be pouring 5 beers on the floor, and another
beer at the San     Diego Brewers Guild Booth.  Paul will also be
judging in the     competition.

2. Karl Strauss Booth:
Whistler Imperial Pils
Red Trolley Ale
Karl Strauss Oktoberfest
Tower 10 IPA
Windansea Wheat Hefeweizen

Guild Booth:
Karl Strauss Amber Lager

3. Entered:
Whistler Imperial Pils (Other strong Ale or Lager)
Red Trolley Ale (Irish Red Ale)
Karl Strauss Oktoberfest (German Marzen)
Tower 10 IPA (American IPA)
Windansea Wheat Hefeweizen (South German Hefeweizen)
Black's Beach (Schwarzbier)
Backlit (American Black IPA)
Karl Strauss 21st Anniversary Ale (Experimental Ale or Lager)
Cigar City Brewing – Tampa, FL
1.  A booth. Owner, Head Brewer and Sales Manager will all be in town.

2. Jai Alai IPA,  Oatmeal Raisin Cookie Brown Ale, Guava Grove Ale, Marshal Zhukov's Final Push Imperial Stout, and Marshal Zhukov's Imperial Stout.

3. The above 5 plus Cubano Espresso and Humidor IPA
Left Hand Brewing – Longmont, CO
We will have a full crew out and about during GABF week, and our brewery will be open to the public from 12noon Tuesday-Sunday.

We'll be entering the following beers this year, as well as pouring them @ our booth:

·         Oxymoron India Pale Lager (collaboration with Terrapin)
·         Polestar Pilsner
·         Oktoberfest
·         400 Pound Monkey IPA
·         Sawtooth Ale
·         Fade to Black, Volume I
·         Milk Stout
·         Starksky & Scotch (homebrew competition entry)

As far as categories, we'd like to keep that quiet right now (in case any judges are reading your posts!)
Be sure to swing by our booth in the Pacific Northwest Section – J33 to sample one or all of our 10 offerings.  Our line up of godlike nectar includes: Amber, Pale, IPA, LTD 03, Session, Session Black, Spotless, Sanctuary, Imperial Stout and Top Sail Bourbon Aged Imperial Porter (one of the last kegs from the brewmaster's stash)

Check out the Oregon Brewer's Guild booth where we will be featuring barrel aged beers from Oregon Craft Brewers. Our offering is a special batch of Bourbon Barrel Wassail. Brewmaster John Harris and Head Brewer Barney Brennan will be tapping that keg Friday, September 17th from 5:30 to 7:30.
Moylan's Brewery/Marin Brewing
Moylan's

Hopsickle Imperial IPA
Celt's Golden Ale
Pomagranate Wheat Ale
Chelsea Moylan's Porter
Kilt Lifter Scotch Ale

Marin Brewing

White Knuckle Double IPA
Dirty Blonde
E.S. Chi
Pt. Reyes Porter
Bluebeery Ale
Click here to read Part 1 of GABF 2010 Sneak Peek.
Click here to sign up for TheFullPint.com 's Mailing List.
Click here to read Part 2 of GABF 2010 Sneak Peek.
Click here to read Part 3 of GABF 2010 Sneak Peak.
Click here to read Part 4 of GABF 2010 Sneak Peak.