GABF 2010 – Sneak Peek Part 3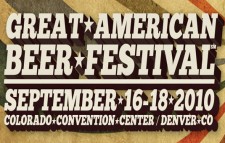 We caught up with many brewers this week, and wanted to find out their involvement in The Great American Beer Festival (GABF). Here are there responses to these questions:
1. What kind of presence will you have at GABF?
2. What beers will you be sending for the festival?
3. What beers will you be entering for judging and in what category?
Odell Brewing – Fort Collins, CO
1. We are a Featured Brewery Sponsor of the event, so we'll have an endcap
booth space. We will staff the booth with brewery employees who will
assist the volunteers, and be available to answer questions. We are also
participating in the Farm To Table Pavilion at GABF, which will be a
food and beer pairing event featuring the Culinary School of the
Rockies.

2. We will be pouring: St. Lupulin Extra Pale Ale, IPA, Bourbon Barrel
Stout, Friek, Myrcenary Double IPA, 5 Barrel Pale Ale, DeConstruction,
and Woodcut #4.

3. We enter just about every beer we produce in a variety of categories,
and have a brewery taste panel help with the selections.
Santa Fe Brewing – Santa Fe, NM
We will have a booth this year at the GABF in the Southwest section (I believe we will be booth # C36).  Here is a list of the beers we will have available for tasting on the floor and the categories they are entered in:

Santa Fe Pale Ale: 53 B, Extra Special Bitter (subcategory: American-style strong bitter)

Santa Fe Hefeweizen: 62 B, German-style Wheat Ale (sub: German-style Leichtes Weizen)

State Pen Porter: 13, Out of Category-Traditionally Brewed Beer (NOTE: This is the category it has won in the last two World Beer Cups)

Happy Camper IPA: 46, American-Style Strong Pale Ale

Santa Fe Nut Brown Ale: 56, English-style Brown Ale

We are also entering the following beers for judge-only:

Chicken Killer Barley Wine: 79 A, Barley Wine (sub: English-style Barley Wine Ale)

Freestyle Pilsner: 25, German-Style Pilsener

Wild Ale #4: 16 A: American-Style Sour Ale

Wild Ale #5: 66 A: Belgian-Style Lambic
1. Kona Brewing Company will be sharing its Liquid Aloha at the festival – look for the table with the fresh Hawaiian flowers! Brewmaster Rich Tucciarone and production planning coordinator Ryan McVeigh will travel 3,300 miles to serve up the goods. Tucciarone also will serve as judge at the competition, as he has for many years in the past.

2. This year Kona Brewing will be tapping up a tasty cornucopia of beers: Oceanic Organic Saison, Pipeline Porter, Wailua Wheat Ale, Castaway India Pale Ale and Coco Loco Coconut Brown Ale.

3. Castaway IPA – American Style IPA

Coco Loco Coconut Brown Ale – Herb & Spice Beer

Pipeline Porter – Coffee Flavored Beer

Wailua Wheat Ale – Fruit Wheat Beer

Black Sand Porter – Robust Porter

Longboard Island Lager – Munich Style Helles

Hula Hefeweizen – South German Style Hefeweizen

Lavaman Red Ale – American Style Amber/ Red Ale
O'Fallon Brewery – O'Fallon, MO
Myself (Brian Owens) and the other two O'Fallon brewers, Stu and Dave, will be there Wednesday through Saturday.  Below is the list of beers that we will have in the competition and the beers that will be poured on the floor.

Floor Beers:

Hemp-Hop-Rye
Whiskey Barrel Smoked Porter
5-Day IPA
Oak Aged Wee Heavy
Sweet Nectar

Competition Beers:

O'Fallon Pumpkin (4B Pumpkin)
Hemp-Hop-Rye (7 Speciality)
Oak Aged Wee Heavy (18 Wood and Barrel aged strong beer)
O'Fallon Smoke (23B Smoked beer)
O'Fallon 5-Day IPA (American Style Pale Ale)
Sweet Nectar (Pro-Am, American IPA)
Pizza Port – San Diego County, CA
1.  Pizza Port will have 4 different booths.  One for each location.  As we grow, more and more of our employees have decided to make the trip out to Denver.  There will be around 25 to 30 brewery employees out to support and have fun at the GABF this year.

2. Each location will be sending 5 beers to the GABF floor.  The range of these beers is huge.
Ocean Beach:
The Jetty IPA
O.B. Chronic
Bacon& Eggs Imperial Breakfast Coffee Porter
Z – Man out
Cho-Saiko Double IPA
Carlsbad:
Beech Street Bitter
Poor Man's IPA
Coffee Monster
547 Haight – The Toronado San Francisco's 20th Anniversary Imperial Red Ale
Good Grief Brown
Solana Beach:
Big Wednesday
Jules Winnfield
Shark Attack
Sharkbite Red
One Down Brown
San Clemente:
Lightweight Lager
Doheney Double IPA
InFamous
Pier Rat Porter
Luck 'o' The Irish

3. This would be impossible to list.  All together, Pizza Port sent 40 beers to the competition.
Click here to read Part 1 of GABF 2010 Sneak Peek.
Click here to sign up for TheFullPint.com 's Mailing List.
Click here to read Part 2 of GABF 2010  Sneak Peek.