Funky Buddha Brewery Maple Bacon Coffee Porter Bottle Release and Festival
(Oakland Park, FL)  – Funky Buddha Maple Bacon Coffee Porter is back with a festival to accompany it! Read on for all the details, Cheers!
Maple Bacon Coffee Porter is back, baby! Our annual bottle release and festival returns on January 10, 2015, so save the date! This epic street party will take place all day and include a swarm of food trucks, special release beers, debut tastings, and bottles of MBCP itself.
This highly-sought after beer was initially released last January and has since earned acclaim for its combination of sticky-sweet maple syrup, fresh roasted coffee, and salty-smokey bacon.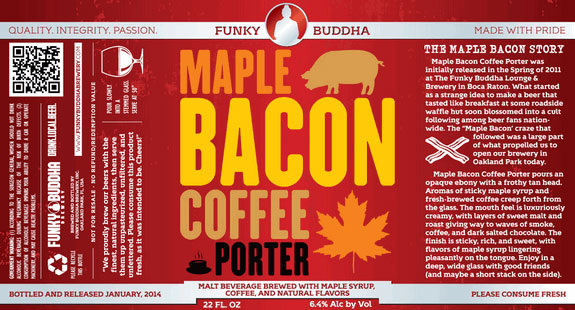 This beer will be packaged in 22 ounce bottles and sold exclusively at the brewery on January 10, 2015. This bottle release will be part of a day's worth of festivities that will include food trucks with breakfast-themed pairings, live music, and multiple bars both indoor and outdoors.
Acclaim for Maple Bacon Coffee Porter
Number 3 Ranked Porter in the World – RateBeer.com
Maple Bacon Coffee Beer Huge Hit in South Florida – CBS 12
99 out of 100 – BeerAdvocate.com
100 out of 100 – RateBeer.com
Six Beers That Blew Our Minds at the Great American Beer Fesitval – SeriousEats.com
The Best Beer at the Great American Beer Festival – EmptyGrowler.com
10 of the Weirdest Beers Ever Brewed – MentalFloss.com
Maple Bacon Coffee Porter Bottle Release Day Schedule
Date: Saturday, January 10, 2015
Festival hours: 12pm to 10pm
Bottle sales: 12pm to 3pm
Bottle pickup: 4pm to 7pm
Bottle Sales Format
Bottle sales will take place on the east side of the building next to the back parking lot. Please follow the signs to the line start. We will do our best to move the line as quickly as possible.
Bottles cost $15
4 bottles per person limit
You must be 21 or over to purchase a bottle
Bottle sales start promptly at 12pm and will run until all bottles are gone.
Bottle sales are cash or credit. An ATM is located near the bottle sales tent. Bringing cash will expedite the process for everyone!
Bottle pickup will begin at 4pm IN THE SAME SPOT and run until all bottles are handed out/sold. No exceptions.
When you purchase your bottle(s) you will be given wristband(s) that you must wear until after your bottles are picked up. This wristband IS your ticket. If this wrist band is removed at ANY TIME we will not accept said tickets. Please keep that in mind before your puchase. Thank you!
All sales are final.
MBCP Fest Draught List
Floridian Hefeweizen
Hop Gun IPA
Doc Brown Ale
Fuhgeddaboudit Red Ale
On Top Blonde
Crusher Session IPA
Small Axe Big IPA
Tripel Lindy Belgian Tripel
OP Porter
Maple Bacon Coffee Porter
Barrel-Aged Snowed In
Last Snow Porter
No Crusts Brown Ale
Don't Tell Reece Double Brown Ale
French Toast Double Brown Ale
Jack Daniels Barrel-Aged Old Fashioned Ale
Wide Awake It's Morning (Imperial MBCP)
Pina Colada
Fire In The Hole
What is this Velvet? (Red Velvet Ale)
Sweet Potato Casserole
Nikolai Vorlauf Russian Imperial Stout
Dread Pirate Ed Roberts Imperial Stout with Cherries, Coconut, and Chocolate
Rich Uncle Pennybags Porter
Sex Panther Black IPA
German Chocolate Cake Brown Ale
Ginger Lemongrass Wheat Ale
Bob's Backyard Mango Habanero Wheat Ale
Uncle Vucub's Imperial Stout with Chocolate, Chiles, and Cinnamon
Stupid Sexy Flanders Ale
Passionfruit Crusher Session IPA
Guest Draughts
Wynwood Brewing Octopus on the Wall Imperial IPA
Engine 15 Java Rye
Swamp Head Saison du Swamp
Swamp Head Tropical Disturbance Double IPA
Swamp Head Lloyd's Christmas Ale (Ale with Spruce Tips)
Saltwater Brewing Chocolate Mayday
Toppling Goliath Pseudo Sue
Tequesta Brewing Tequestavus Belgian Pumpkin Ale
Tequesta Brewing "No Sauce" – Stone Crab Stout with Smoked Horseradish Root
Cigar City Brewing Bourbon Barrel-Aged Big Sound
Saint Somewhere Dry-Hopped Et Sans Fin
Angry Chair 3 Little Birds
Angry Chair German Chocolate Cupcake
Revolution Brewing Anti-Hero IPA
Revolution Brewing Deth's Tar Bourbon Barrel-Aged Imperial Russian Stout
J. Wakefield Brewing Berlinerweiss
Music Schedule
We're proud to announce that South Florida's own blues legends the Albert Castiglia Band will be headling the festival
Time slots:
1pm – Royal Majestique
3:30pm – Shortstraw Pickers
5:45pm – Mike Mineo
8pm – Albert Castiglia Band
Food Vendors
Chaco's Chinese Tacos
Spring In, Roll Out
Sidecar Kitchen
Da Burger Shack
Poblano's Mexican Fusion
Diablo Dogs
Frankie Dogs
FAQs
Q: How many bottles of MBCP can I buy?
A: The bottle limit will be four per person.
Q: How much will MBCP cost?
A: $15 per bottle. Cash or credit will be accepted. There will be an ATM located adjacent to the bottle tent. We strongly encourage cash transactions as it will help expedite the sales process for everyone.
Q: Does the festival cost anything to attend?
A: No, entry is free all day.
Q: Can I bring bottles to share?
A: Bottle sharing will be permitted outside the Tap Room within the designated festival grounds, which includes the plaza out front of our building (all along the building) and on the west side of the building facing the tracks.  Drinking any alcohol in the adjacent parking lots, neighborhoods, or in front of neighboring businesses will not be permitted. We reserve the right to remove anyone from our premises violating this policy.
Some people have asked about tailgating. The best spot for this will be in the east parking lot running "behind" our building. You may bring a tent, etc. but it cannot take up a parking spot – it must go behind your car. Please don't impede traffic as well. No cooking devices (stoves, grills, etc.) will be permitted.
Q: Can I bring my kids?
A: Supervised minors are always welcome at Funky Buddha Brewery until 8 pm.
Q: Can I bring my dogs/monkeys/parakeets?
A: Well-behaved dogs are permitted on our grounds, but not inside the tap room. Please leave your pet pigs, alligators, and wildebeasts at home. Thanks!
Q: What beers will be on draft? Do we need tickets to purchase beers?
A: See the tap list above. Tickets will be required to purchase all beers. $5 = one ticket = one beer. Pour sizes may vary. We will take cash or credit for ticket sales. Tickets are good for January 10, 2015 only. All sales are final.
Q: Will there be tours?
A: Tours will not be running on January 10, but we will be conducting additional tours on January 11. If you'd like to take a tour, Sunday is the day to do it that week! You may RSVP online.
Q: Will food be available?
A: Yes. We will have multiple food trucks throughout the day with special dishes. See above for complete list.
Q: If I arrive early, can I get my bottle in advance?
A: You can arrive early, but we will not begin sales until 12pm. Bottles will not be distributed until 4pm, no exceptions.
Q: Will growlers be available for purchase?
A: No – growlers will not be for sale on January 10.
Q: Is there a good place to stay if I'm coming from out of town?
A: Yes, the Westin Fort Lauderdale has a special rate available for Funky Buddha Brewery guests. Please visit our booking portal to take advantage of it. The hotel will also run a shuttle to the event for guests.
http://www.westinfortlauderdalehotel.com/funky-buddha-brewery
Q: Where can we park?
A: You may park in the following lots:
-The public lot directly south of the main tap room entrance.
-Either of the grass fields across Dixie Highway
-The east lot that runs behind the brewery
Please do not park on our neighbor's lawns or in front of their driveways, or in front of businesses down the plaza along Dixie Highway. Our neighbors may tow!
Q: Are there any public transportation options to the festival?
A: Yes! The Tampa Bay Brew Bus is running a charter pickup from Cigar City Brewing in Tampa to the festival itself. Tickets cost $85 and include a bottle of MBCP! Register here: http://tampa.brewbususa.com/events/
The Miami Brew Bus will also run a charter to the event. Please check back shortly for more information.