Full Sail Celebrates The Bounty Of The Hop Harvest With Lupulin Fresh Hop Ale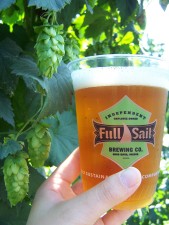 Hood River, Or – Every August brings in a new hop harvest and every year you can find Full Sail brewers travelling to the fields to gather all the hops they can carry to brew their annual celebration of hops— Lupulin Fresh Hop Ale.
This year Full Sail focused on two classic Northwest hops, Crystal and Cascade, both developed in Oregon. Cascade hops lend a flowery, spicy citrus character to the beer. Crystal hops have a mild character with a clean and slightly spicy finish. In order to accentuate the unique flavor contributions of the two different hop varieties, Full Sail brewers crafted two different brews using the same malt, but different hops.
Lupulin Fresh Hop Ale is a veritable hop lover's delight. Named for those wonderful tiny lupulin glands inside hop flowers, they are packed with sticky resins and essential oils that provide bitterness, flavor and aroma. This beer is all about hops: it's wet hopped, kettle hopped, hop back hopped, wet hopped and dry hopped in the fermenter with 135 pounds of hops per 24 barrel batch. That's 5.62 pounds of hops per barrel! Most products this fresh last only a short time and Lupulin is no exception. Please enjoy while you can. (ABV 5.8% IBU 70)
Full Sail invites you to experience the nature of this year's Lupulin when the brewery will tap the new batch at their Tasting Room and Pub in Hood River, and at their Riverplace Brewery in Portland, on Thursday, September 10th at 5:00PM. For more information contact the Full Sail Tasting Room and Pub at 541-386-2247 or Full Sail at Riverplace at 503-222-5343.
Full Sail's Lupulin Fresh Hop Ale will be available in limited quantities mid September to November on draught in pubs throughout the Pacific Northwest and at Full Sail's Tasting Room and Pub in Hood River and at their Riverplace brewery in Portland, Oregon. It will also be available at various fresh hop beer festivals throughout the Northwest including the Hood River Hops Festival www.hopsfest.com and the Yakima Fresh Hop Festival, Saturday, October 3rd www.freshhopalefestival.com at the Oaks Park Fresh Hop Festival in Portland, Oregon, October 10, and at Fresh Hop Festival in Eugene, Oregon, October 17. The Oregon Brewer's Guild will be sampling fresh hop beers from Oregon breweries at their booth at the 2009 Great American Beer Festival, in Denver, Colorado, Sept 24-26. Lupulin will be on tap at the festival Friday, September 25th. www.greatamericanbeerfestival.com
About Full Sail Brewing Company
The independent and employee-owned Full Sail Brewery is perched on a bluff in Hood River, Oregon, overlooking the most epic wind and kite surfing spot in the world. At this very moment 47 specialists in the liquid refreshment arts are crafting barley and hops into your next beer. Among the company's most popular brews are Full Sail Amber, IPA, Pale, LTD, Session and Session Black Premium lager. Founded in 1987, the Full Sail crew has been fermenting godlike nectar for 21 years. Full Sail is committed to brewing great beer while adhering to socially and environmentally sustainable practices. Their award winning brews are now available in nineteen states. The Full Sail Tasting Room and Pub is open seven days a week. Swing by for a pint, grab a bite, tour the brewery, or just soak up the view. www.fullsailbrewing.com