Fredricksburg Oktoberfest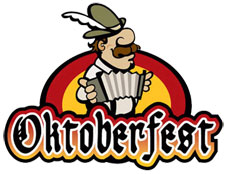 Date: October 3-5
Location: Downtown Fredricksburg, TX
Sponsored By: Pedernales Creative Arts Alliance
Highlights: Beer tent, continuous music from 30 bands on two stages, artist's tent, German and Mexican food, children's activities.
Willkommen zu Fredericksburg!
Fredericksburg, Texas, celebrates its German heritage through Oktoberfest. Oompah at its best. German music, food and drink, arts and crafts, children's area and family fun.
The sound of oompah, the aroma of sizzling bratwurst, and the cries of Gemütlichkeit once again herald the arrival of Oktoberfest in Fredericksburg, Texas, October 3, 4 & 5, 2008. For three full days, the whole world is invited to sing, toast and dance at one of Fredericksburg's favorite festivals, celebrating its 28th Anniversary!
Three covered stages host a continuous parade of entertainers. The focus is the German favorites of oompah, polka, and waltzing, with exhibitions, contests, and plenty of opportunities for dancing – including the irresistible "Chicken Dance!" Bands scenduled to perform this year include the Jodie Mikula Orchestra, Oma & The Oompahs, the Walburg Boys, The TubaMeisters, the Fredericksburg Filharmonic, the Polkamatics, Havlak-Batla Polka Time Band, The Sound Connection, Rajah Khan, Shirley Johnson, Herschel Moody, Czech & Then Some, Ed Kadlecek & The Fun Bunch, the Arion Maennerchor, the Band Aids Jazz Band, Rennie & The Happy Travelers, Hermann Sons Mixed Choir, Janak's Polka Band, the Swingin' Dutchmen, Boerne Village Band and Ensemble and the Seven Dutchmen.
Oktoberfest attracts many visitors just for the shopping opportunities. Over 45 juried artisans from across the state fill two big tents, offering their best arts and collectibles. In yet another tent, a select group of hill country artists will be selling their fine art to the public in a rare showing. Many find it the ideal opportunity to start their holiday shopping with many unique, handmade gift items.
Of course the best of any celebration in Fredericksburg is the hearty menu of delicious German and Mexican-American foods. Over a dozen vendors will be sizzling up fajitas, tacos, burgers, as well as a variety of sausage on a stick and plates with kraut, Cajun goodies, strudel, plus other scrumptious surprises. Adventurous tasters can sample over 30 varieties of domestic and imported beers.
Oktoberfest is great fun for the youngsters as well. Kids can play to their heart's content on the Rock Climbing Wall, Super Slide, Jumping Castle, and other fun games and activities right on the grounds.
Since its inception in 1981, Oktoberfest has been sponsored by the Pedernales Creative Arts Alliance. Community volunteers provide the labor, and all funds are used for student scholarships and to support the local arts.
Oktoberfest hours are 6 pm to 12 midnight Friday, 10 am to 12 midnight Saturday, and 11 am to 6 pm Sunday. Admission is $6, $1 for children 6-12, and under 6 free. Two-day passes are $10; three-day passes are $15. Advance ticket sales are welcome.
For More info, visit: www.oktoberfestinfbg.com